IOF Infantry Unit Ambushed by Resistance in Soufa, Gaza
The Israeli occupation forces' spokesperson announces that two Israeli soldiers were wounded in the northern Gaza strip.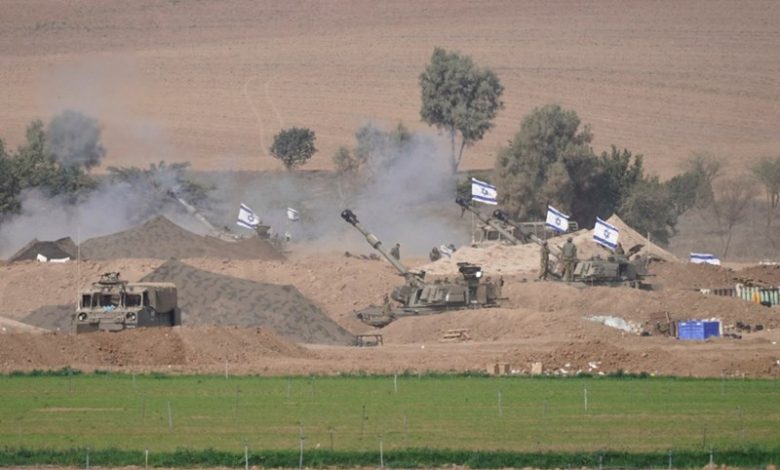 An Israeli infantry unit fell into an ambush set up by the Resistance in Soufa. 
Our correspondent confirmed that "the Israeli infantry unit withdrew from Sofa after intense clashes with the Resistance that lasted for 3 hours."
Furthermore, the IOF spokesperson announced that an Israeli officer was seriously injured as a result of the detonation of an explosive device and that another soldier was injured during confrontations in the northern Gaza Strip.
This comes after the Israeli land invasion waged against Gaza along three axes was driven back by the Resistance, which confirmed that the occupation's soldiers suffered casualties in the process.
The Resistance said that the enemy fell into "ambushes prepared by the Palestinian Resistance" and expected the occupation to "attempt to invade Gaza again."
Israeli Airstrikes continue against Gaza
Simultaneously, the Israeli occupation's air force continued to target various areas in the Gaza Strip. Al Mayadeen's correspondent reported several casualties as a result of the shelling of houses in the Shuja'iya neighborhood in the eastern part of the Gaza Strip.
Read more: Syria describes Israeli crimes against Gaza as similar to fascism
Similarly in the south, casualties and injuries were reported as a result of the shelling of a house belonging to the Daloul family in the Al-Zaytoun neighborhood south of Gaza City.
Our correspondent also reported that the number of casualties of the Tamous family has risen to 13 in the Israeli occupation's shelling of their home in the western camp in Khan Yunis.
He further added that "the Israeli occupation's artillery is intensively shelling the eastern part of Deir al-Balah and the center of the Strip," noting that "the artillery shelling has also resumed in the eastern parts of the Bureij and al-Maghazi camps and the eastern parts of Juhor al-Dik."
The occupation's air force also carried out airstrikes in the northern part of the Gaza Strip, especially in Beit Hanoun, Shuja'ia, and Zaytoun, and also targeted a house belonging to the Zwaidi family in Beit Lahia in the northern part of the Strip, our correspondent reported. 
Death toll exceeds 8,000
Our correspondent also reported there are "around 2,000 missing as a result of the occupation's airstrikes, half of them are children," and also "around one and a half million Palestinians have been displaced from their homes in the Gaza Strip, where they are living in extremely difficult conditions."
The Ministry of Health in Gaza announced on Saturday night that the death toll from the Israeli aggression has exceeded 8,000, with half of them being children.
'Second stage' of war
Earlier today, the Israeli occupation's Prime Minister Benjamin Netanyahu announced that the Israeli occupation Forces have launched the "second stage" of the war, warning settlers to prepare for long-term hostilities.
Despite the several failed attempts, Netanyahu said on Saturday, "Last night, additional ground forces entered Gaza, marking the beginning of the second stage of the war, whose goal is to destroy the military and political capabilities of Hamas and to bring our kidnapped citizens back."
"In the initial weeks of the war, we launched massive airstrikes that dealt a severe blow to the enemy… We eliminated many terrorists," the occupation PM said in a public address, adding, "However, we are only at the beginning of the road. The battle within the Gaza Strip will be difficult and long."