Israel Launches Airstrikes on Damascus, Aleppo Airports
Syria's air defenses intercept Israeli airstrikes targeting Damascus and Aleppo, resulting in reported damage to the runways.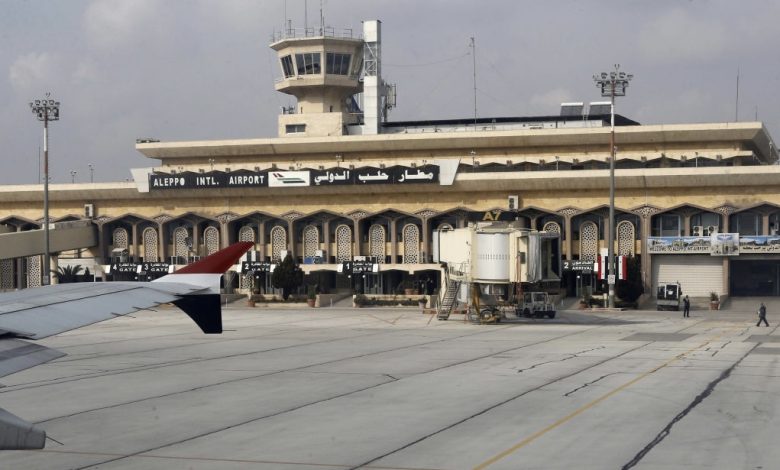 The Syrian air defenses intercepted Israeli air strikes on the airports of Damascus and Aleppo. 
Activists on social media shared images and footage of the targeting of the two airports. 
Our reporters in Aleppo reported that the Syrian air defenses intercepted an attack targeting Aleppo Airport, reporting that the runway was damaged. 
Correspondingly, Israeli media also reported an air strike on Damascus International Airport.
Shortly afterward, the Syrian Ministry of Defense issued a statement condemning the Israeli aggression. 
"This is a desperate attempt by the criminal Zionist enemy to divert attention from its crimes in Gaza."
"The aggression damaged the runways at Damascus and Aleppo airports and took them out of service," the statement read. 
The statement then framed this aggression as being part of a persistent strategy by "Israel" to indirectly support the takfiri terrorists in Syria, which serves as an extension for "Israel" in Syria. 
Yesterday, it was reported that mortar shells were launched toward the "Ramat Magshimim" settlement in the occupied Golan Heights from Syria on Tuesday evening.
In response, the Israeli occupation forces shelled the sources of fire in Syrian territories, according to Israeli media outlets.
Informed Syrian sources indicated that the Israeli occupation bombarded the Wadi Jamla area in the western countryside of Daraa, near the southern part of the occupied Golan Heights.
It is worth noting that the settlement had been built on the ruins of the Palestinian village of al-Abasiyah.
With the launching of Operation Al-Aqsa Flood, the Syrian Ministry of Foreign Affairs confirmed that the Palestinian Resistance factions have paved the way to achieve non-negotiable Palestinian rights.
Syria has been a long supporter of the Palestinian Resistance, providing Gaza with the necessary means to effectively confront Israeli aggression.
Syria condemned "the brutal practices of the Israeli occupation against the Palestinian people," emphasizing that "the Resistance's response confirms the Palestinian people's right to establish their independent state on their land."
Moreover, it has been a constant target of Israeli air strikes and rocket fire that have hit civilian infrastructure such as airports and residential areas. "Israel" has also relentlessly targeted Syrian Air Defense batteries in recent years in an attempt to undermine the Syrian Arab Army's capabilities.