Israeli bombing targets Indonesian hospital in Gaza Strip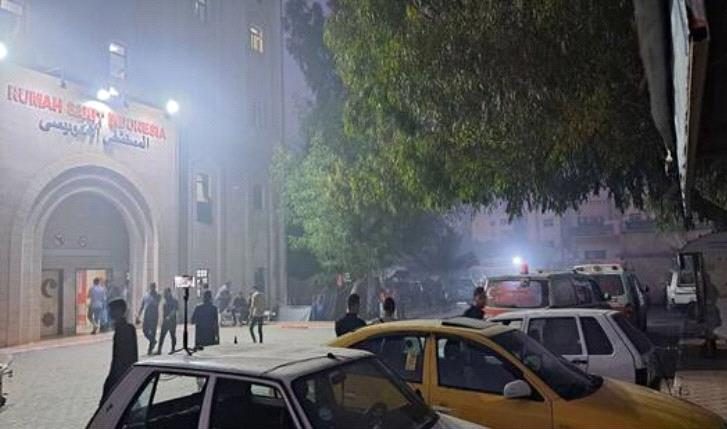 A number of Palestinians were martyred and dozens were injured as a result of the Israeli occupation's bombing of the Indonesian Hospital in the northern Gaza Strip.
Medical sources quoted noting a preliminary toll of 12 martyrs as a result of the Israeli bombing of the hospital, adding that the occupation tanks bombed the operation room.
A number of doctors at the Indonesian Hospital were injured as a result of the Israeli occupation targeting the hospital in the northern Gaza Strip, on Monday.
Among those who were martyred were a number of civilians who had previously been injured and were receiving treatment at the hospital.
Importantly, it was underscored that despite the fact that the Indonesian Hospital remained the only hospital welcoming the injured from Gaza City, Israeli tanks surrounded it and bombed its exterior courtyard.
In turn, the Government Media Office in Gaza confirmed that a new war crime was committed by the Israeli occupation against hospitals in the Gaza Strip, as its tanks targeted the hospital.
Medical sources reported that the occupation artillery bombed the second floor of the hospital, which led to massive destruction, in addition to the injury of two doctors performing their duty, noting that the number of martyrs had further increased due to the resulting electricity cut-off making it difficult to perform surgical operations to save the lives of the wounded.
The sources also indicated that there are thousands of displaced people inside the hospital, and about 150 wounded, in addition to the medical staff and workers in the hospital whose number does not exceed 100, and who are living in fear of the occupation committing a massacre amid its tightening of the siege and continuous bombing.
In its most recent situation update, the UN Relief and Works Agency for Palestine Refugees in the Near East (UNRWA) reported that the number of casualties among its personnel during the continuing genocide in Gaza has reached 104.
"On 18 November, one UNRWA colleague was killed in the North area due to strikes. In total, 104 colleagues have been killed since the beginning of the war. This is the highest number of United Nations aid workers killed in a conflict in the history of the United Nations," the agency said.
Since the beginning of the war on Gaza, the death toll in the Gaza Strip has surpassed 12,300. UNRWA estimates that nearly 1.7 million individuals have been displaced in the region since October 7, with almost 884,000 seeking shelter in 154 UNRWA installations, including those in northern Gaza.