Israeli forces announces incursion into Gaza Strip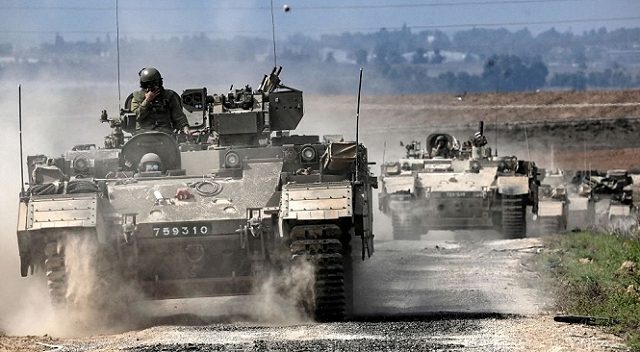 Israeli ground forces have launched an incursion into the Gaza Strip – described as the biggest in Israel's current war with Hamas.
Israeli forces and tanks launched an hourslong ground raid into northern Gaza overnight into Thursday, the military said, striking several militant targets in order to prepare the battlefield ahead of a widely expected ground invasion after more than two weeks of devastating air raids.
In grainy video of the overnight action issued by the military, armoured vehicles including tanks could be see proceeding through a sandy border zone.
Explosions could also be seen near or amid a row of damaged buildings.
A military statement said the incursion was carried out "in preparation for the next stages of combat" – a possible reference to the large-scale invasion that Israeli leaders have threatened as part of the war to destroy Hamas.
"The soldiers have since exited the area and returned to Israeli territory," the military statement added.
Israel's Army Radio described it as the biggest incursion of the war.
Israel began localised ground incursions on Sunday as the war, triggered by the cross-border rampage by Hamas terrorists on October 7, entered its third week.
Ministers were attending a Cobra meeting on Thursday morning to discuss evacuating Britons trapped in Gaza ahead of an expected military invasion by Israel.
The raid came after the U.N. warned it is on the verge of running out of fuel in the Gaza Strip, forcing it to sharply curtail relief efforts in the territory, which has also been under a complete siege since Hamas' bloody rampage across southern Israel ignited the war earlier this month.
The rising death tolls in Gaza are unprecedented in the decades-long Israeli-Palestinian conflict. Even greater loss of life could come if Israel launches an expected ground offensive aimed at crushing Hamas, which has ruled Gaza since 2007 and survived four previous wars with Israel.