Media: Gaza Invasion Would be Detrimental to Israeli Capabilities
Israeli media says a ground invasion of Gaza would be to the detriment of the Israeli occupation's capabilities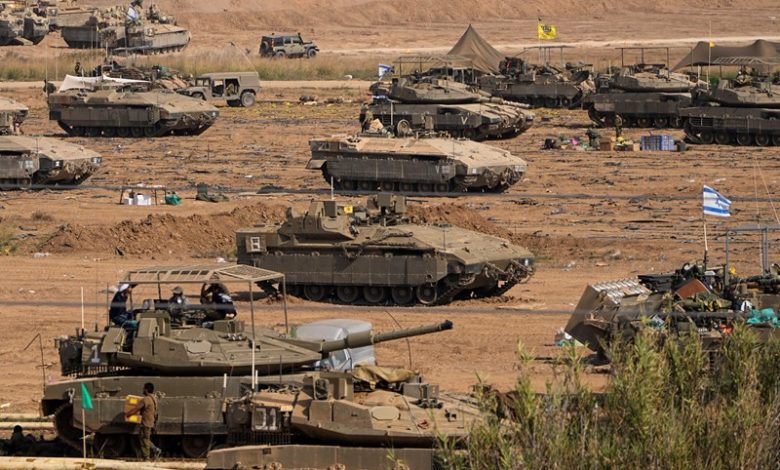 If the Israeli occupation forces decide to invade Gaza right now, their capabilities would greatly deteriorate as Hamas and the Palestinian Islamic Jihad prepared themselves very well militarily, Israeli Channel 7 quoted IOF Reserve Major General Yitzhak Brick as saying.
"Long before the attack on the Gaza envelope, Hamas and the Islamic Jihad prepared IEDs and mines, among other traps, and anti-armor equipment," Brick said on Tuesday.
Hamas' dream scenario is a ground invasion of Gaza, Chatham House research center said, adding that the Palestinian Resistance has long prepared for a ground invasion that could last for years.
The institute also said the Israeli occupation must be cautious in light of the heavy, indiscriminate bombing of Gaza, which could kill Israeli captives.
The Israeli forces must "go hard against Hamas" to "possibly restore deterrence, which has taken a huge hit," the think tank added.
It also reminded that the high death toll of Palestinian civilians could also weaken the support of key Israeli allies while also stocking anti-Israeli sentiment in the region.
Former US President Barack Obama said that the actions taken by "Israel" against Hamas, such as cutting off food and water supplies to Gaza, could lead to the "hardening of Palestinian positions for generations" and "weakening international support for Israel."
Obama said yesterday that any Israeli military strategy that disregards the human casualties of war will ultimately backfire. 
The Chatham House said Operation al-Aqsa Flood constituted the worst intelligence failure in Israeli history, further underlining that the occupation's ability to analyze its enemy's capabilities and intentions "is understandably not very high."
A senior Biden administration official once again reiterated the White House's concern about the ground invasion: assessing that the IOF is not ready to initiate a military invasion of Gaza and that the plan lacks achievable objectives to strategize the invasion. 
Israeli Security Minister, Yoav Gallant, and US Defense Secretary Lloyd Austin addressed concerns about a clear strategy for invading Gaza, where the Palestinian resistance has an intricate network of tunnels. 
Yesterday, it was reported that the Pentagon had dispatched a military envoy headed by Marine three-star Lieutenant General James Glynn to "Israel" to assist in addressing the challenges of urban warfare. 
On Sunday, an Israeli Embassy diplomat refuted claims that the US government was urging "Israel" to delay the ground invasion, stating, "The US is not exerting pressure on Israel regarding the ground operation."
Biden administration officials insisted that the United States had not told "Israel" what to do and still supported the ground invasion. Likewise, the Pentagon affirmed that despite dispatching military advisors, it wasn't making decisions on behalf of "Israel".