Israeli Judicial Reform Protesters Block Main Roads Amid Violence
The occupied territories continue to erode from within as protesters block more areas in protest of the proposed judicial reform plan.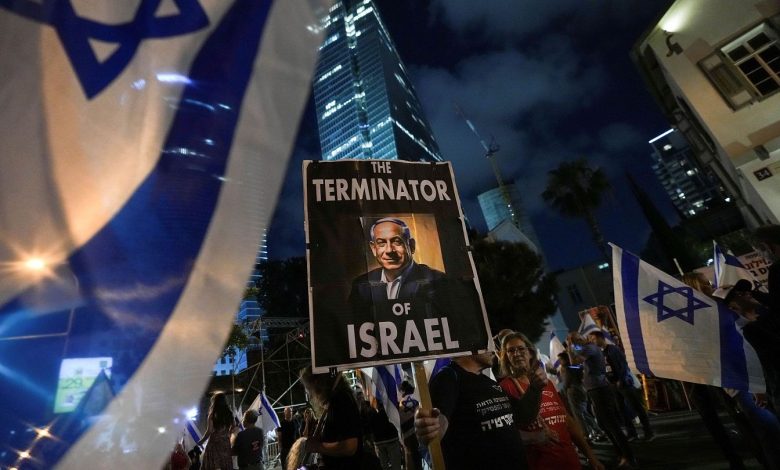 Protest leaders announced Saturday afternoon that protests would be intensifying this week, with a Saturday protest taking place in 'Tel Aviv' and other locations, as well as another protest scheduled for Monday at the occupation's 'Ben Gurion Airport.'
This week's protests mark the 26th week in a row of demonstrations against the occupation government's proposed judicial reform.
Protesters in 'Tel Aviv' partially blocked 'Ayalon' lanes on Saturday evening before the demonstration against the judicial reform on Kaplan Street. 
The students' protest stated: "Without reasonable cause, Israel is a country of corrupt appointments, where every minister is an emperor, where improbability is celebrated. The government has revealed its true face – and we have four weeks to stop it. We will not grow into a dictatorship. Resist!"
Several other locations have been announced as main protests including "Haifa, Al-Quds, Ashdod, Beersheba, Karkur, Beit Shemesh, Netanya, and Karmiel."
 Protests to intensify
'Kaplan Force' said in a press release that "Israel is facing a dark moment, where basic rights are in grave danger, from Netanyahu and Levin who are scheming to ban protests, cripple judicial oversight, and appoint their own Judges who are loyal to them.
For six months they have been confronted with a historic protest movement that has blocked their every attempt to turn Israel into a Dictatorship. Now is the time to come out and resist in every legal and nonviolent way possible, on Kaplan St., at the 'Ben Gurion Intl Airport', and across the nation."
According to the leaders of 'Kaplan Force', about one hundred and fifty thousand demonstrators participated in the main demonstration against the judicial reform at 'Kaplan Street' in 'Tel Aviv.'
Moreover, opposition leader Yair Lapid said on Saturday during a demonstration in Ra'anana that "This is not the reason for reasonableness, it is the reason for fragility. There were no agreements in the president's house regarding everything the coalition says. This is a complete lie. This is an outright lie." 
This is an increase from the last few weeks of protests.