Israeli Occupation threatens to forcibly displace Palestinian families from Batn Al-Hawa in Jerusalem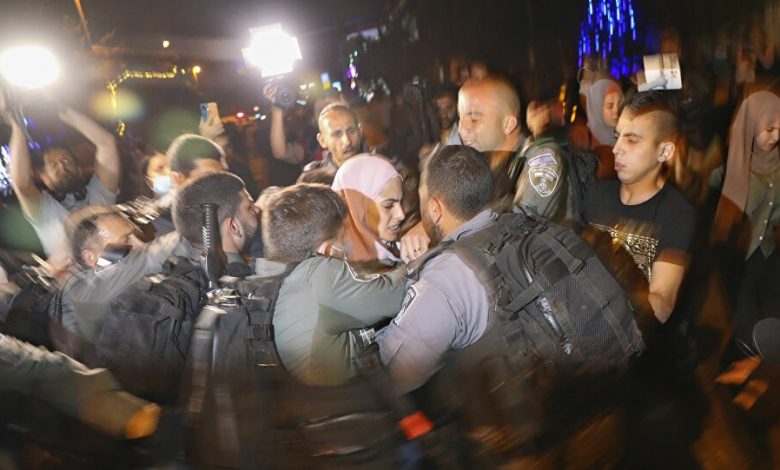 Israeli occupation suppressed on Wednesday a stand by the people of the Batn al- Hawa neighborhood in the town of Silwan, south of the Al-Aqsa Mosque, and in solidarity with them after they organized a stand in front of the Israeli Central Court in Jerusalem ,which will consider today the petition submitted to it by many families against their forced displacement from their homes and an attempt Seized it for the benefit of the extremist settler group Aterat Cohanim.
Since last night, the occupation forces have preempted the court session by erecting iron barriers throughout the entire perimeter of the Israeli Central Court in the middle of Salah El-Din Street in occupied Jerusalem ,while the people also pre-empted the court session with a sit-in they carried out tonight in the Tadamon tent in Batn Al-Hawa neighborhood in protest against the occupation's attempts to forcibly displace them From their homes.
Although they were pushed and attacked by the Israeli police, and one of the youths was arrested, dozens of families and those in solidarity with them completed their stand and chanted against the decision to evacuate and displace them from their homes in favor of the settlers.
During recent years various Israeli ministries and the occupation municipality in Jerusalem have mobilized to help the settlement association "Atter Cohenim" to expel Palestinian families residing in Batn Al-Hawa neighborhood ,and to settle Jewish settlers in their place.
Besides, the court issues its decision in favor of the settlers then the risk of displacement threatens 86 families in Batn Al-Hawa neighborhood including about 750 individuals ,who live in 15 buildings ,but the residents assert that if the Occupation Central Court rejects the petition of the residents of Batn al-Hawa neighborhood ,they will submit an appeal to the Supreme Court of Occupation Against the District Court's decision.
The Batn al-Hawa neighborhood issue is not different from the Sheikh Jarrah neighborhood issue, rather it is similar in many of its details regarding the settlement associations that are making great efforts to control more real estate.