Sinwar warns Israel of big battle if IOF continues its aggression in Jerusalem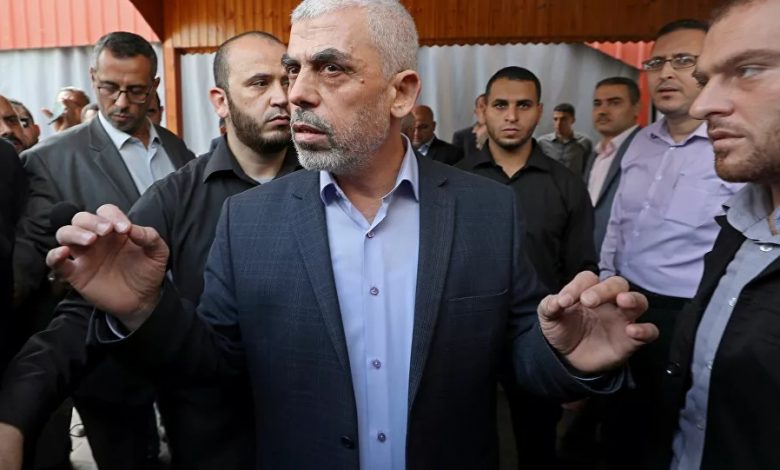 Leader Yahya Sinwar stated on Wednesday in the meeting  with a number of journalists in the Gaza Strip many important issues,and messages to many states and presidents .
 Sinwar announced, "We wanted to send a message to the occupation that it is enough to play with fire, and Netanyahu and Gantz did not receive the message, and they wanted a long battle, so they saw what they were not expecting for the uprising of our people in all Palestine.
 We struck Jerusalem first, so that the occupation leaders" know that Al-Aqsa has men to protect it, and that we are ready to sacrifice what is precious for the sake of Al-Aqsa, Al-Quds and Sheikh Jarrah.",He started his speech.
 So that the occupation knows that what happened was just a" maneuver for what would be if it tried to play with fire in Al-Aqsa Mosque.",He added.
The occupation plunged into a rush to normalization over the" past year, so they thought that they could do whatever they wanted."
He clarified, "The occupation did not know that its normalization was with the rulers, and a small group, but this nation has its heart beating with love for Jerusalem and Al-Aqsa."
"If the Al-Aqsa Mosque is attacked, the Gaza resistance will rise with all its might, and our people will attack all the West Bank settlements at once, and our people will rise up inside the occupied interior, and the resistance in the region will start to pound it with the most power it has."
He continued, "The occupation planned for years an operation during which it would assassinate the first row of the movement with one blow, but they failed to do so."
"The occupation did not affect a single fighter in this ground attack trick, in which 160 aircraft participated." 
"Our intelligence was aware of the enemy's plans, and they were not deceived by the trick of the ground operation."
"The damage caused to the tunnels network did not reach 5%, and it will be renovated within a few days."
 Manufacturing workshops, weapons stores, and operations" management rooms, are operating with more than 95% efficiency."
"The Al-Qassam Brigades was planning to end the battle with a rocket-propelled grenade of 300 shells, half of them on Tel Aviv, but in honor of our brothers in Egypt and Qatar and the mediators, we decided to stop this strike." He added.
"The occupation tried to undermine the second, third and fourth grades of our militants but it failed miserably."
Sinwar emphasized, "The occupation failed to target the resistance and its capabilities, and it only succeeded in targeting civilians, infrastructure, and homes."
We have succeeded in putting the Palestinian issue back on" the world table, and this issue cannot be bypassed."
"After the resistance imposed a curfew on Tel Aviv, and by" order of the Commander in Chief Mohammed Deif, we allowed the residents of Tel Aviv to leave for shopping for limited hours."
Our people in Jerusalem are required to remain ready to" defend the Al-Aqsa Mosque, Sheikh Jarrah."
We assure the people of Jerusalem that behind them is an" authentic people that will not abandon them, and a resistance that will not let them down."
He continued ,"We call on our people in the West Bank to confront the settlers' orgy and confiscation of lands."
We are confident that our people will fulfill their duty to defend" their rights and support Al-Quds and Al-Aqsa."
The prisoners have our pledge and promise that we will" release them to be on a date with liberation, God willing.
This year will not end, God willing, unless a major" breakthrough has been achieved in the economic and humanitarian life in the Gaza Strip."
This year will not pass, and the problems resulting from the" blockade will continue, and we will burn everything and everything in order to improve the lives of our people."
We will open the way for everyone to revive the economy in" Gaza, and we will not ask for a single penny for Hamas or the Qassams."
Hamas and Al-Qassam have their financial resources to spare" them from the aid money provided to our people."
I thank the Islamic Republic of Iran, who have not given us" money, weapons and expertise."
Thanks to our people and our nation who donate to the" resistance and strive with their money."
The resistance factions do not need reconstruction funds, and are ready to facilitate the process of reviving the Gaza economy."
The world has the opportunity to bind the occupation to" international law and international agreements, so that the opportunity becomes ripe for a relatively long-term truce."
If the occupation withdraws from the West Bank, Jerusalem," settlements are dismantled, refugees return, and we establish our state on part of our land, the opportunity will be available to sign a long-term armistice."
The political situation in the occupation has been unstable" during the past two years, and this is what impedes the completion of a prisoner exchange deal."
We are ready for the big battle, if the enemy commits a great" folly in Jerusalem and the holy sites."
There is an international tendency to focus on the" humanitarian problem in the Gaza Strip, and they are convinced that this problem must be solved."
The last missile burst was made of old missiles, which we" want to take out of service."
The resistance missile workshops did not stop working, even" during the battle."
The opportunity for world leaders, if they want stability in the" region, is to force the occupation to respect the rights of our people."
We have programs and plans to support our people, and we" will not leave a house destroyed until we rebuild it."
The Palestine Liberation Organization, without Hamas, Jihad," and their military strength, is nothing but a cultural and political salon."
We must not allow external parties to play on the internal front, and we must rise to arrange our Palestinian home, the PLO, and devise a comprehensive struggle strategy."
The talk about forming a national unity government does not" fit the level of the battle. We must sit at one table to rearrange the Palestinian house."
The occupation leaders need two weeks to absorb the shock," and we will not allow anyone to blackmail us or threaten us."
We fought a security and intelligence battle during the battle," and we uncovered a number of agents and intelligence plots."
He warned us that what happened was just a maneuver for" what will happen in the regional war and open confrontation."
Egypt has invited the movement's leader, Ismail Haniyeh, to" visit Cairo, and this visit will be carried out in the coming days."