Israeli police occupation say three wounded in central Tel Aviv shooting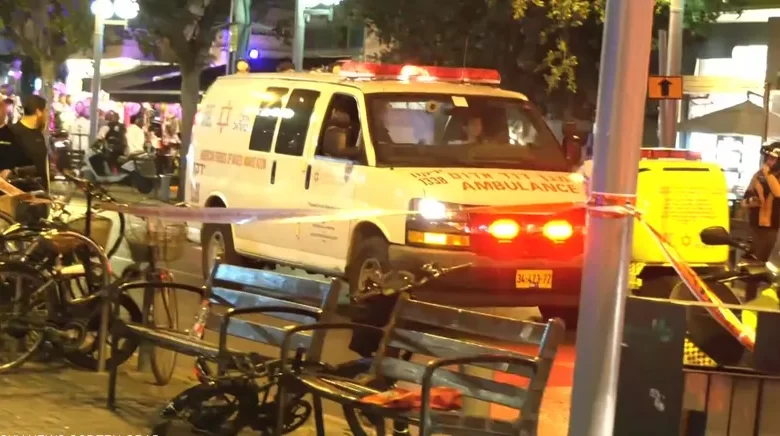 Three people were shot and wounded in Tel Aviv Thursday night, including one who was critically injured, in a suspected terror attack by a Palestinian gunman.
The gunman was identified as 23-year-old Mutaz Salah al-Khawaja, a Palestinian from the West Bank town of Ni'lin. According to both Israeli and Palestinian media reports, Khawaja was member of Hamas and had twice been jailed in Israel. Following the identification of the gunman, Israeli security forces entered into Ni'lin, to search for possible accomplices.
According to Israeli medical services, the three wounded were shot next to a cafe on the corner of Dizengoff Street and Ben Gurion Street at the center/north of the city. After shooting at the cafe, the gunman fled the scene while shooting at other people in the area. He was then shot dead in a shootout with two police officers.
Thousands of demonstrators were still rallying in different spots in Tel Aviv when the attack took place, as part of the protest day staged across Israel since this morning by opponents of the government's judicial overhaul plan.
A multitude of police forces arrived to the scene of the attack, including Police Chief Yaakov Shabtai. Police forces are searching for whether there are any other assailants in the area. Associates of National Security Minister Itamar Ben-Gvir said after the incident that he will not travel to the scene, not because of the protesters in the area, but because of security reasons related to the attack.
Prime Minister Benjamin Netanyahu was informed about the incident shortly after addressing the Italian Jewish community. Netanyahu traveled to Rome Thursday evening, arriving at the main synagogue of the city in order to meet with leaders of the local Jewish community. His military secretary, Avi Gil, informed him of the attack while still in the synagogue. Netanyahu is expected to meet on Friday with Italian Prime Minister Giorgia Meloni, returning to Israel late Saturday night (after the Sabbath). Associates of Netanyahu said the time table of the visit will not be changed.
A Hamas spokesperson said after the attack that this was a first reaction to "crimes of the Zionist enemy." The spokenman was referring to the killing earlier Thursday of three Palestinians in the West Bank village of Jaba, south of Jenin, during a raid by Israel Defense Forces (IDF) soldiers.