Italy government crisis: Salvini calls for snap election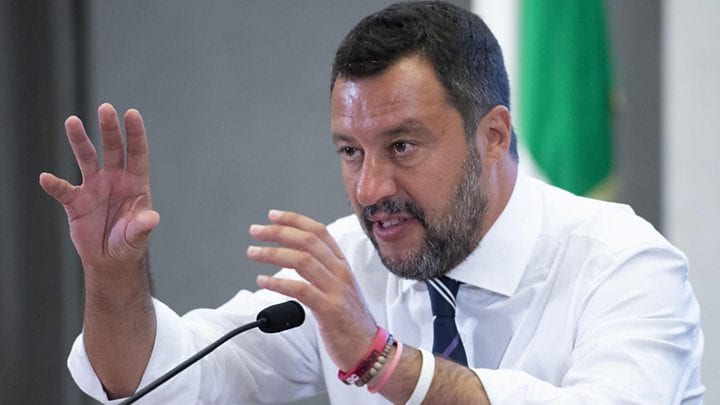 Matteo Salvini, leader of Italy's League party, has called for a snap election, saying differences with coalition partners cannot be mended.
A failed attempt by the Five Star Movement to derail plans for a high-speed rail link showed the coalition could no longer govern, he said.
Five Star leader Luigi Di Maio said his party did not fear another election.
Mr Salvini's right-wing party is well ahead in opinion polls, due mainly to his stance against illegal immigration.
The League party has tabled a no-confidence motion in the Senate to bring down its coalition with the Five Star Movement. Party leaders will set the date for the debate on Monday.
Parliament is on its summer recess but Mr Salvini told legislators to "get off their bums" to debate the motion within the statutory 10 days.
Mr Salvini is also very active on social media and has developed a "man of the people" image, pushing for tax cuts despite Italy's €2.3tn (£2.1tn) debt mountain, which is second only to Greece's in the EU.
In last year's election, Five Star won twice as many votes as the League, but polls suggest the proportions have been reversed.
In European elections held in May the League came top with 34% of the votes in Italy, whereas Five Star got about 17%.
Giuseppe Conte, the non-party law professor who serves as the coalition's prime minister, has said Mr Salvini, Italy's interior minister, must "justify" to parliament his call for an election.
Both Mr Salvini and Mr Di Maio are deputy prime ministers.
The authority to dissolve parliament rests with President Sergio Mattarella, but he may be reluctant to do so, as next month MPs – who are currently on holiday – have to consider the 2020 budget.
What is the dispute about?
Political clashes over the project for a railway between the Italian city of Turin and French city of Lyon led Prime Minister Giuseppe Conte to put tenders on hold in March.
The multi-billion-euro TAV (Treno Alta Velocità) link involves digging a 58km (36-mile) tunnel through the Alps.
It is bitterly opposed by Five Star on environmental and cost grounds.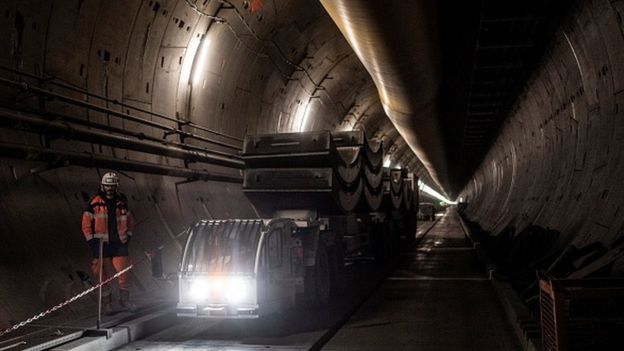 The League argues that it would create jobs and stimulate economic growth, and that moving freight from road to rail is environmentally friendly.
Supporters of the project say it would halve the travel time between the two cities to just two hours. The tunnel would also make it possible to travel from Paris to Milan in around four hours, down from nearly seven.
The project was launched 20 years ago and part of it has already been dug. It is scheduled for completion in 2025.
Costs were initially projected to hit €8.6bn ($9.7bn; £7.4bn), but Italy's Transport Minister Danilo Toninelli – a Five Star member – put the price tag at over €20bn.
The EU pledged to fund up to 40% of the cost.
What happens now?
"Let's go straight to parliament to say there is no longer a majority… and quickly go back to the voters," Mr Salvini said on Thursday.
Mr Di Maio countered by declaring in a statement: "We are ready, we don't care in the least about occupying government posts and we never have."
The League has been in an uneasy coalition with Five Star, which came to power on an anti-establishment ticket.
Mr Salvini's demand for an election does not necessarily mean a poll will be called in the near future. Italy has not had an autumn election in all the post-war period, Reuters news agency reports.
President Sergio Mattarella could theoretically appoint a government of technocrats and postpone a new election until next year.
Italy has had a technocratic government before, but Mr Salvini, riding a wave of popularity, can be expected to oppose such a move.