Jewish extremists enter Al-Aqsa Mosque, Backed by Israeli occupation police
Israeli occupation police pushed back Palestinian demonstrators on Thursday at the East Jerusalem Mosque compound, where Jewish worshipers began to return, according to witnesses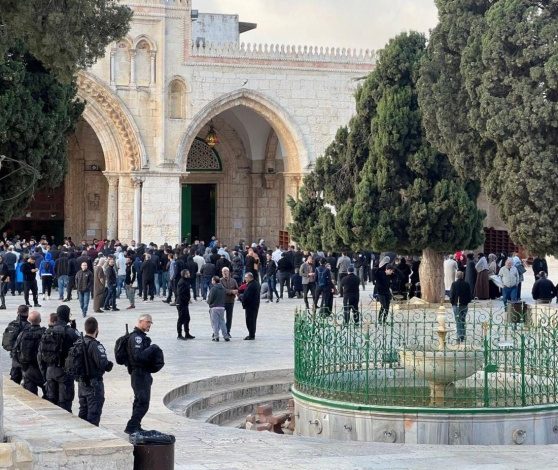 New clashes broke out on Thursday, May 5, between Israeli occupation police and Palestinians on the esplanade of the Mosques of East Jerusalem, where Jewish worshipers have started to go again to Al-Aqsa mosque.
According to an AFP photographer on the spot, the police occupation have reinforced their presence in front of the Al-Aqsa mosque located on the esplanade.
This site is the third holiest site in Islam, Since mid-April, clashes between Israeli occupation police and Palestinian have injured nearly 300 people, the vast majority of them Palestinians, on the esplanade located in the Palestinian part of Jerusalem, occupied since 1967 by Israel.
Fears linked to the "status quo"
Thursday's skirmishes come on the 74th anniversary of the establishment of the State of Israel according to the Hebrew calendar, and as Jewish worshipers resumed going to the esplanade after a break linked to the end of the month of muslim ramadan fasting.
By virtue of an unspoken status quo, non-Muslims can go to the esplanade but without praying there.
However, the growing number of Jews visiting this site and the fact that some of them surreptitiously pray there are raising fears that this status quo will be challenged among many Muslims.
Last week, the leader of the Palestinian Islamist movement Hamas in the Gaza Strip, Yahya Sinouar, threatened Israel with rocket fire in the event of a "new attack" on the Al-Aqsa Mosque, where Israeli security forces had entered in April, sparking outrage among Palestinians and countries in the region.