Libya: Violent clashes between militias In Al-Zawiya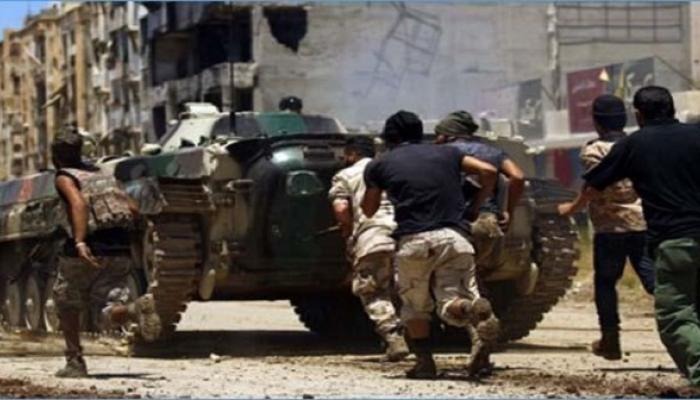 Violent armed clashes erupted at dawn today, Friday, between the militias of Muhammad al-Bahroun, nicknamed "The Mouse", affiliated with the city of Zawiya, and the militia of the Stabilization Support Service led by Abdel-Ghani al-Kikli, nicknamed "Ghaniwa", affiliated with the capital, Tripoli, south of the city of Zawiya, western Libya.
The clashes, the most violent of their kind, began after a force affiliated with the Al-Far militia attacked the positions of the Stabilization Support Organization, hours after its forces affiliated with the so-called "Criminal Investigation" were subjected to an armed attack by unknown assailants, which resulted in the injury of 4 of its members and the destruction of a number of its vehicles.
All types of medium and heavy weapons were used in these clashes, which are still ongoing, as videos circulating on social media showed the firing of grenades and rocket-propelled grenades from both sides.
Following the recurrence of these confrontations each time, voices from inside the city rose condemning these clashes, causing intimidation of the residents and endangering their lives and safety, and demanded the intervention of the authorities to develop a security plan for calm, to prevent the recurrence of these events.
The city of Al-Zawiya, which is one of the cities in western Libya with the presence of armed militias, has witnessed intermittent clashes for weeks between the various armed formations in the city, which are fighting over areas of influence and smuggling routes. Local mediators have succeeded in concluding a settlement between the parties to the conflict.
Since assuming their duties last March, the current authorities have been silent about the repeated clashes that erupt from time to time, between the armed militia in the cities of western Libya, despite the threats issued by the Presidential Council last April to "hold accountable all those who caused harm to civilians or public property." and private."
The dilemma of the armed militia that controls the cities of the Libyan West and is linked to tense relations, conflicting interests and contradictory affiliations, is one of the most prominent obstacles facing the new executive authority, which promised the Libyans peace, unity and stability.