Libyan Court Orders the Return of Saif al-Islam Gaddafi to the Electoral Race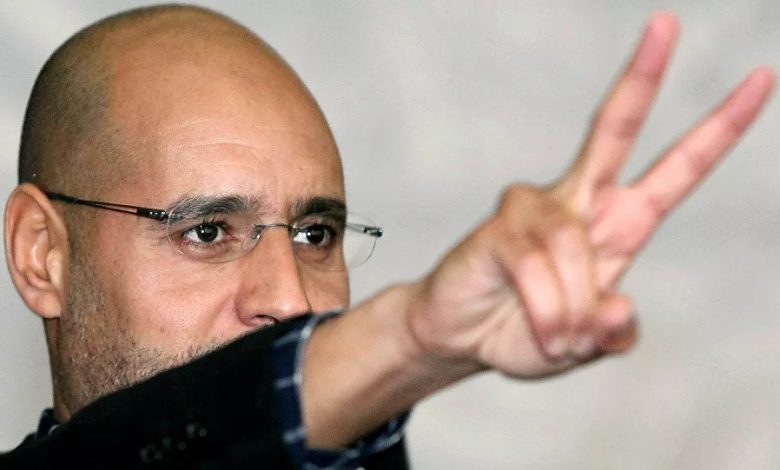 Sabha Court in southern Libya ruled that Saif al-Islam Gaddafi should return to the electoral race, after a hearing on the appeal submitted by Gaddafi's son against the decision to exclude him from the presidential race after the completion of the judicial body, after it stalled for several days, due to gunmen surrounding the court building. The judges apologized for her presence.
And Saif Al-Islam Gaddafi's lawyer deposited the papers and documents necessary for his client, proving the legality of his candidacy to the Appeals Committee meeting inside the court.
From inside the Sebha Court
Outside the building, dozens of supporters of Saif al-Islam Gaddafi gathered, awaiting the court's decision, which will determine the fate of their candidate, which is expected to be issued today.
The Al-Arabiya correspondent in Libya had reported, quoting sources close to the Sabha Court in southern Libya, that the court had accepted the appeal of Saif Al-Islam Gaddafi's appeal about the decision to exclude him from the Libyan elections and his return to the presidential race again.
Two days before the closing of the electoral appeals phase and the announcement of the final list of candidates who will compete for the position of the next president of Libya, the fate of Saif al-Islam Gaddafi's candidacy is still ambiguous and unclear, while his supporters continue to sit in front of the Sebha court building, to demand the settlement of his appeal.
A member of Saif al-Islam al-Gaddafi's political team, Muhammad al-Qaloushi, said in a statement to Al-Arabiya.net that the latter is still waiting for a decision on his appeal to the Sebha Court against the decision to exclude him from the presidential elections, after the judicial body apologized for considering his request.
Lawyer Khaled Al-Ghwail, a member of the defense team for Saif Al-Islam Gaddafi, said that there is a possibility and attempts to hold a hearing on the appeal, today, Thursday, in Sabha Court.
Yesterday evening, Wednesday, Saif Al-Islam Gaddafi called on the Electoral Commission, the Supreme Judicial Council and the Ministry of Justice of the Government of National Unity to intervene, to put an end to what he described as the absurdity aimed at harming the political rights of the Libyan people, especially their right to elections, and to protect the fortress of the Libyan judiciary and prevent interference in its rulings or influence in the elections. Members of its bodies, as the guarantor partner for the success of this important entitlement.
He stressed his adherence to exercising his right to run for candidacy and participate in this entitlement without prohibition or confusion that could lead to mistrust in the results of this electoral station and questioning its ability to contribute publicly to the country's arrival to peace and stability.
Gaddafi, the son, called, in a statement through his lawyer, Khaled Al-Zaydi, to the Electoral Commission, to take into account "the coercive and compelling circumstances, and to rearrange its timetable related to the announcement of the final list of candidates, and to extend the time specified for receiving verdicts from the judiciary and not to ignore them."