Libyan militia leaders say fighters sent by Turkey to back UN-recognised government forces include former al-Qaeda, IS members.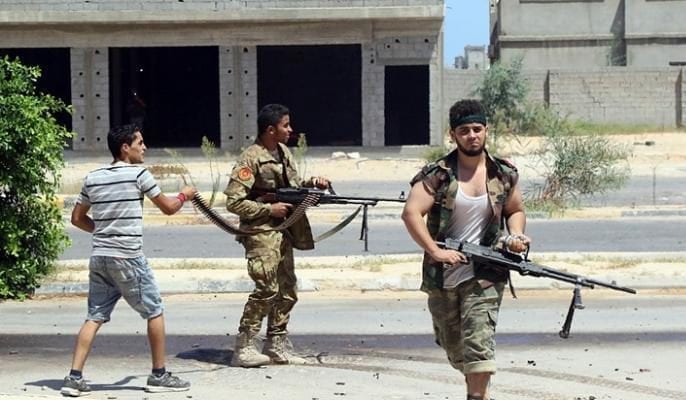 Turkey is sending Syrian militants formerly affiliated with Islamist factions such as al-Qaeda and Islamic State to fight in defence of the UN-recognised government in Tripoli, according to Libyan militia commanders and a Syrian war monitor.
The Government of National Accord (GNA), led by Prime Minister Fayez Sarraj, is facing a months-long offensive by the Libyan National Army (LNA) of General Khalifa Haftar, allies with a rival government in the country's east.
The LNA is backed by Turkey, who recently passed a bill through parliament to send troops in support, and to a lesser extent by Qatar and Italy. Haftar's men are backed by the UAE, France and Russia, and receive logistical assistance from Egypt.
The UN backs the GNA because Sarraj's government was born out of UN-mediated talks in 2015.  
Libyan militia leaders in Tripoli, speaking on condition of anonymity, claimed that 'dozens' of the over 4000 foreign fighters brought in by Turkey have links to extremist groups.
Turkey-backed militias in Syria are known to include former members of al-Qaeda, IS and other extremist groups that have committed multiple atrocities against Syrian Kurds and civilians.
However, not all within the government's ranks take issue with a fighter's background, with one saying that it's irrelevant as long as they've come to help defend the capital. Others fear that being affiliated with extremists will 'tarnish' the GNA's image.
Scampering for influence
Libya has the ninth-biggest known oil reserves in the world, and it is no wonder that foreign powers are vying for lasting influence beyond the current conflict's resolution.
Turkey has yet to confirm or deny reports that it has sent Syrian fighters, but video evidence appears to leave little to the imagination.
In one video circulating online, a man with a Syrian accent films the dormitories where he and other fighters are living, saying "Thank God, we arrived safely in Libya."
Another clip shows a plane full of fighters, some wearing fatigues and speaking with Syrian accents.
Rami Abdurrahman, the director of the Britain-based Syrian Observatory for Human Rights, added further credence to reports by saying that his war-monitoring network has calculated at least 130 former jihadists are among the approximately 4,700 Syrian mercenaries sent by Turkey to defend the GNA.
Many of these IS militants had joined the so-called Syrian National Army, formed by Turkey from different factions opposing the regime of President Bashar Assad in Syria, many of which are loyal to Ankara.
"As a combat force, we will have a different team there. They won't be from within our soldiers. Those different teams and the combat forces will work together. But our high-ranking soldiers will coordinate," said Turkish President Recep Tayyip Erdogan in an interview last month.
In January, Sarraj told the BBC that his government "would not hesitate to cooperate with any party to defeat this aggression" from Haftar's forces.
Geneva talks
The UN on Tuesday announced that ceasefire talks were under way between warring parties, and repeatedly condemned the flow of weapons and foreign fighters into Libya.
A truce is technically already in place, brokered by Russia and Turkey, but both sides have repeatedly violated it, and violence has escalated in recent weeks despite it.
However, the most recent UN initiative, kick-started in Geneva on Tuesday, offered promise after Haftar, after days of resistance, finally agreed to send five senior representatives to join talks.
The success of the Geneva initiative largely depends on whether foreign players such as the UAE and Turkey choose to continue backing their side.
At a summit in Berlin last month, world leaders committed to ending all foreign interference and to upholding a weapons embargo to help end the long-running civil war.
The EU has proposed providing monitoring assistance to ensure the ceasefire's implementation, but it is up to those taking part in negotiations to accept or reject their help.
Libya has been mired in chaos since a 2011 NATO-backed uprising that killed longtime dictator Moamer Kadhafi, with two rival administrations vying for power.