Libyan National army withdraws from Al-Watiayh base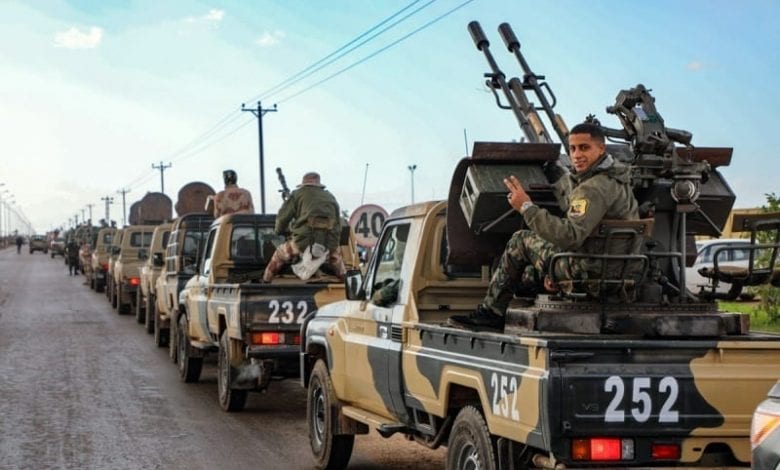 The Libyan National Accord government announced that its forces took control of the Al-Watiyah Air Force base Monday from the grip of the National Army forces led by Khalifa Haftar.
The Libyan Observatory newspaper quoted military sources as saying that armed groups from the cities of Al-Zawiya, Misrata and Zuwara entered the Al-Wattia air base "Aqabah Bin Nafi", after they were exposed to more than 100 "Turkish" air strikes within days, adding that the army forces withdrew their equipment in the early morning hours .
A spokesman for the al-Wefaq government forces, Colonel Pilot Muhammad Qanunu, said it had recovered the "al-Wattia" air base in the southwestern desert of the city. He did not give details.
The Al-Wefaq government forces have been trying for weeks to seize the base, and are intensifying air strikes with drones provided by Turkey.
The escalation in the fighting comes despite mounting international pressure from both sides to return to negotiating a political settlement and an end to the violence because of concerns about the spread of the Coronavirus. Libya has reported at least 65 cases of the virus, including three deaths.
Turkey has sent armed drones, air defense systems and Syrian fighters recently with links to extremist groups to support the crisis government of Tripoli.
Tactical withdrawal
This comes when the media center of the Libyan National Army's Operation Room for Dignity Operations said on Facebook that what happened in the past hours at Al-Wattiyah base was accurate and well-studied.
The statement added, "What happened at Al-Wattiyah base was a tactical withdrawal without any losses, as a thousand vehicles, armored vehicles, all aircrafts, air defense systems and the field hospital withdrew, and the" militias "did not obtain any of them, and 1500 soldiers withdrew. The" militias "did not capture any of them.
The statement added, "Al-Wattia base is not of military importance at the present time, but it is" a very important moral achievement for the militias. "