Libyan Prime Minister Dbeibeh arrives Cairo to Discuss Libyan Political Crisis with Egyptian Officials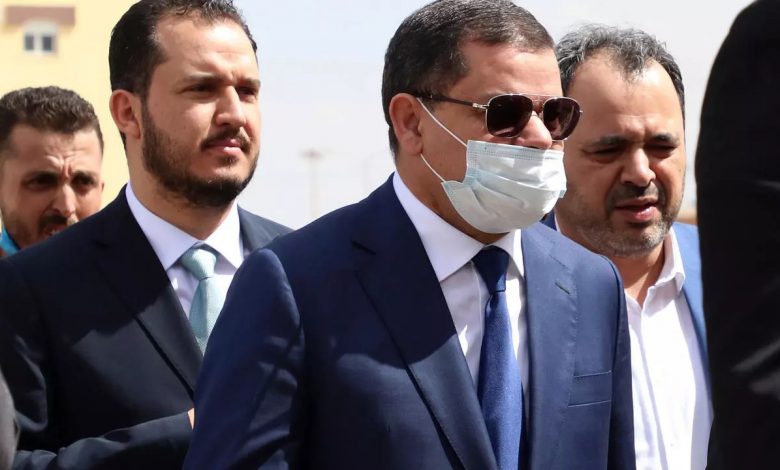 Libya's Prime Minister Abdul Hamid Dbeibeh will visit Cairo to discuss the political crisis with Egyptian officials and sign several agreements in the economic and trade fields.
Hawaij chaired the ministerial delegation of the unity government, ahead of the meetings of the Libyan-Egyptian Joint Higher Committee scheduled for Thursday.
A Libyan ministerial delegation arrived in Cairo Tuesday, consisting of Economy Minister Mohammad al-Hawaij, Transport Minister Mohammad al-Shhoubi, Housing and Construction Minister Abu Bakr al-Ghawi, and a number of officials.
The committee's meeting will be chaired by the Libyan PM and his Egyptian counterpart Mostafa Madbouly, which comes within the framework of boosting bilateral relations, increasing trade exchange, and concluding agreements in several areas of common interest.
The Libyan and Egyptian governments had previously signed 11 agreements to enhance cooperation in several areas during Madbouly's visit to Tripoli in April at the head of a large ministerial delegation.
The two sides signed several memoranda of understanding (MoU) on cooperation in road and infrastructure projects, transportation, and health, and in addition to investments in the electricity sector.
The Libyan-Egyptian Joint Ministerial Committee held its second Cairo meeting on September 10. The panel discussed issues of the Egyptian workers, and the date they will be allowed to return in addition to their integration into the Libyan labor market.
In September 2020, Egypt's Minister of International Cooperation Rania al-Mashat received Hawaij to discuss the ongoing preparations for the meetings of the eleventh session of the Egyptian-Libyan Supreme Committee.
The Libyan Ministry of Labor and Rehabilitation said in a previous statement that the joint meeting, which was held at the office of the Egyptian Ministry of Manpower in Cairo, discussed the issue of Egyptian workers in Libya and the mechanism for their entry under the supervision of the Libyan Ministry of Labor provided that it is done during the current year.