Libyans Take to Streets in Protest against Turkish Interference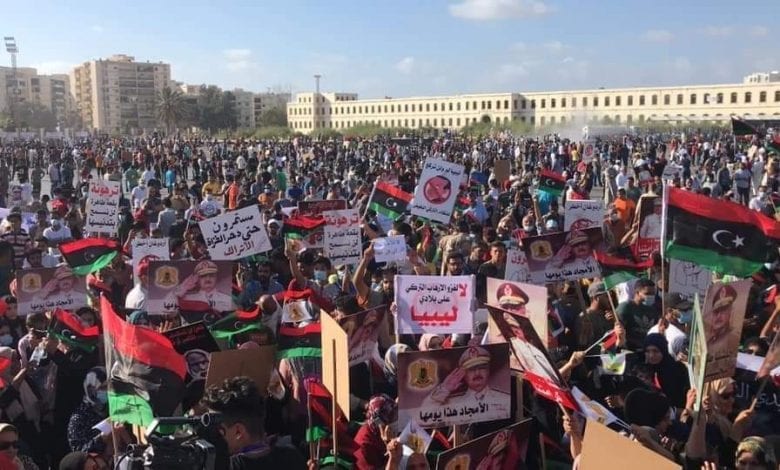 Thousands of free Libyans took to streets in Benghazi city in mass demonstrations against the Turkish interference in Libya's internal affairs.
The anti-Turkish aggression protests come in conjunction with the military operation launched by the Libyan National Army (LNA) against Al-Watiya airbase and destroying a new air defense system, which has been recently installed during the Turkish Defense Minister's visit to Tripoli.
The Libyan demonstrators held pictures of LNA Commander Field Marshal Khalifa Hafter, and banners in support of the LNA in its battle against the Turkish occupation in Libya, in addition to those militias aligned with the Government of National Accord (GNA), which is backed by Turkey and Qatar.

Libya and Turkish aggression
The protesters also condemned the Turkish aggression in Libya, stressing their complete rejection of all form of foreign interference in their country, especially Turkey, which is seeking by all means to loot the North African country's wealth of oil and natural gas.
Turkey has deployed mercenaries and weapons to Libya's GNA in the west. The GNA's army rivals the self-styled Libyan Arab Armed Forces in the east.
Like Benghazi, a big number of protesters in many cities staged peaceful marches to condemn and reject the Turkish invasion in Libya.
Turkey's support for the GNA has helped shift the balance in the country, thus allowing the west-based forces to retake Tripoli.