Magen David Adom [Red Star of David]: Gunman killed at least 7 people in occupied Jerusalem attack
The attack follows a deadly Israeli raid in the occupied West Bank on Thursday in the Jenin refugee camp. Nine Palestinians were killed by Israeli forces.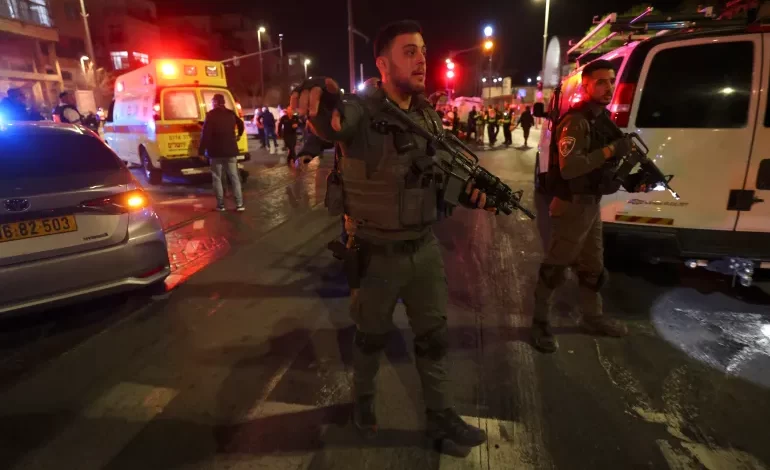 A gunman opened fire and wounded at least seven people in occupied Jerusalem neighborhood before he was shot, Israeli medics say.
After Friday's shooting, the Magen David Adom emergency service said it was treating 10 wounded, some in critical condition.
The attack follows a deadly Israeli raid in the occupied West Bank on Thursday in the Jenin refugee camp. Nine Palestinians martyrs were killed by Israeli occupation forces, including an elderly woman, after dozens of Israeli soldiers attacked a house containing suspected fighters, leading to several hours of intense fighting.
Israeli police said the gunman was shot and killed, and police were at the scene.
At least 200 Palestinians were killed in the past year by Israeli troops.
"What we understand happened was a car pulled up at the front of a synagogue, a gunman got out and opened fire," James Bays reported from East Jerusalem.
"The information is pretty confused. The figures we have now are seven people dead, including a 15-year-old boy."
A second person was possibly in the car and the Israeli authorities were now searching that individual, Bays said.
A police statement said there was "terror attack in a synagogue in Jerusalem … The shooting terrorist was neutralised at the scene. Large police forces are at the scene."
Gaza fighters then fired rockets and Israel carried out air raids overnight, but the exchange was limited.
In Gaza, Hamas spokesperson Hazem Qassem told the Reuters news agency that Friday's attack was "a response to the crime conducted by the occupation in Jenin and a natural response to the occupation's criminal actions". He stopped short of claiming the shooting.
The Palestinian Islamic Jihad also praised but did not take responsibility for the attack.
Israeli military raids have become commonplace over the last year with at least 200 Palestinians – fighters and civilians – killed.
Israeli civilians and troops have also been killed in attacks by Palestinians in Israel and the occupied territories.
Friday's shooting came amid heightened tensions. Palestinians marched in anger as they buried the last of the Palestinians killed by Israeli troops the day earlier.
Crowds of Palestinians waved the flags of both Fatah and Hamas in the streets of the town called al-Ram, masked Palestinians threw stones and set off fireworks at Israeli police who responded with tear gas.
Scuffles between Israeli forces and Palestinian protesters erupted after the funeral for a 22-year-old Palestinian north of Jerusalem and elsewhere in the occupied West Bank.
Israel's opposition leader, former Prime Minister Yair Lapid, called Friday's attack "horrific and heartbreaking".