Israeli Occupation Raids Jenin Using Force the Camp has not Seen in Years
The Israeli Occupation Forces raid Jenin camp and prevent the Red Crescent from entering, resulting in higher death tolls and more severe injuries.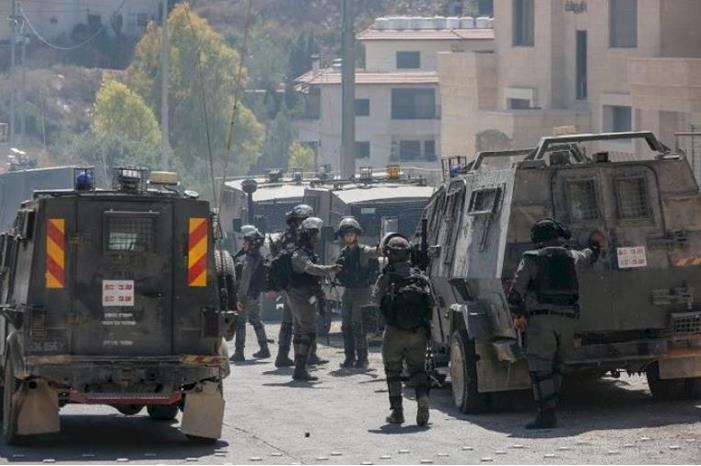 The Israeli Occupation Forces (IOF) raided the Jenin camp in Occupied Palestine's West Bank early on Thursday morning, leaving residents and popular resistance groups with no choice but to defend themselves and confront the occupation forces.
The Palestinian Ministry of Health indicated that so far, 9 Palestinians have been martyred, 13 injured, including 3 in serious condition.
Palestinian youth Ezzedine Salahat was martyred by IOF bullets.
Saeb Essam Mahmoud Azraqi, 24 years old, was also martyred.
With the 9 martyrs announced so far, the number of martyrs in Jenin camp since the beginning of 2023 has risen to 13.
Moreover, the Palestinian Ministry of Health noted that a Palestinian woman has arrived at Ibn Sina Hospital, in Jenin, with a live bullet wound in her femoral artery, adding that her condition was extremely critical.
The Ministry of Health also reported instances of suffocation among patients, including children, inside Jenin Governmental Hospital, as a result of the occupation forces firing gas canisters toward the hospital.
It is also worth noting that as part of the raid that was launched against Palestinians, the IOF prevented ambulance crews from entering the region. That being said, there have been multiple reports of Palestinians being directly targeted with live fire, but due to the life-threatening challenges facing emergency crews, the number of martyrs and wounded remains unclear.
Additionally, the occupation forces directly targeted an ambulance in Jenin camp.
In turn, the Israeli media reported that "the military operation in Jenin was launched after intelligence from the Shin Bet about the Palestinian Islamic Jihad movement's intention to carry out a major operation against Israeli targets, and the aim of the operation was to arrest a prominent member of the movement."
The Palestinian Ministry of Health reported that the situation in Jenin camp is very critical, noting that "the Red Crescent informed us of the difficulty of rescuing and evacuating many of the injured."