Niger's Junta Cancels Military Cooperation Agreements with France
Fate of French military base uncertain after coup in West African country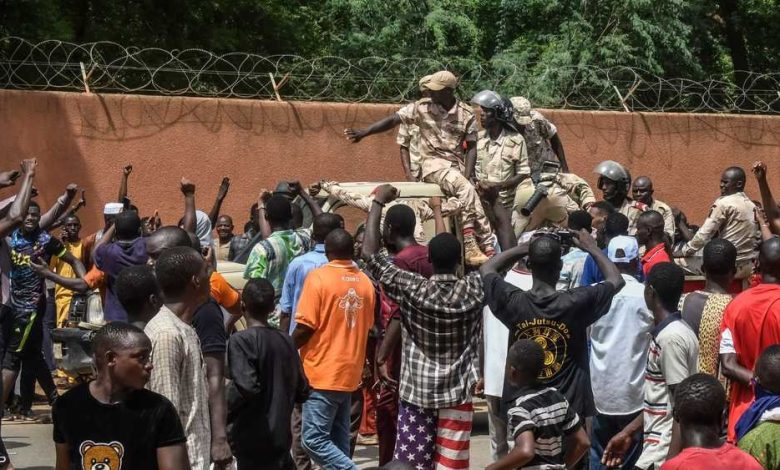 The junta in Niger late Thursday overturned several military cooperation agreements with France, putting the fate of its former colonial master's military base in the West African country up in the air.
Amadou Abdramane, a spokesperson for the National Council for the Safeguarding of the Country, read out a statement on national television revoking five military cooperation agreements with France, one dating back to 1977.
A group of soldiers calling themselves the National Council for the Safeguarding of the Country delivered a statement on Nigerien state television on July 26, shortly after detaining President Mohamed Bazoum, and said they took the step due to the "deteriorating security situation and bad governance."
Commentators say the announcement did not come as a surprise as earlier on Thursday anti-France demonstrators gathered outside the French Embassy.
Late Thursday, the junta suspended operations of two state-owned French international media outlets in the country, France 24 Television and Radio France Internationale (RFI).
France has a major military base in Niger with about 1000-1500 troops which plays a crucial role in France's operations in the troubled Sahel region, fighting militants affiliated with Daesh/ISIS and al-Qaeda.
The French base in Niger had gained more importance for France after it withdrew from neighboring Mali and Burkina Faso.
The French government is yet to respond to the junta's decision to cancel military pacts. But the French Foreign Ministry late Thursday condemned the junta for suspending operations of its international media outlets in the country.
Under the leadership of ousted President Bazoum, Niger was France's last remaining ally in the Sahel region in the war against terror.
"France reaffirms its constant and determined commitment to press freedom, freedom of expression, and the protection of journalists," the French Foreign Ministry said in a statement.
The ministry criticized the decision as "an authoritarian repression step" by the group that staged a military coup on July 26 and "took the elected President (Mohamed Bazoum) hostage."
France evacuated over 1,000 people from Niger on Tuesday and Wednesday, including 502 nationals from 50 other countries.
Bazoum was elected in 2021, in Niger's first democratic power transition since it gained independence from France in 1960.