Medvedev: any attempt to "encroach" on Crimea will be seen by Russia as declaration of war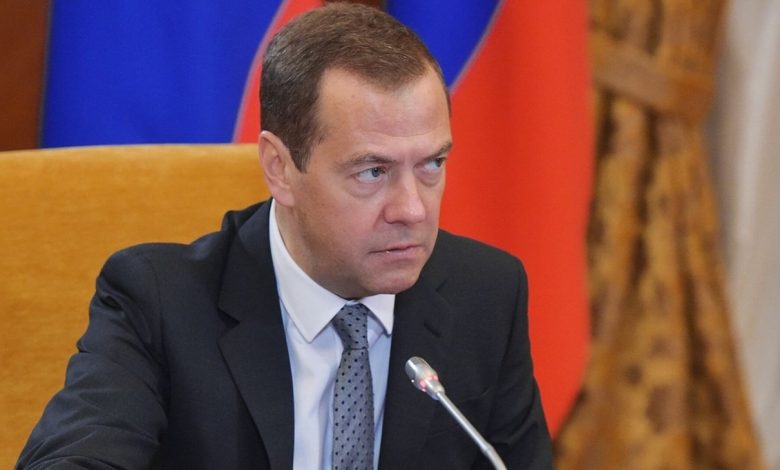 Any attempt to encroach on the Crimea will be regarded as a declaration of war on Russia, and if this is done by a country that is part of NATO, this will mean a conflict with the entire North Atlantic Alliance, which will actually be a third world war, Deputy Secretary of the Russian Security Council Dmitry Medvedev warned.
"Any attempt to encroach on Crimea is a declaration of war on our country. And if a country that is a member of NATO does this, this is a conflict with the entire North Atlantic Alliance. The third world war. Total catastrophe," Medvedev stated in an interview with Argumenty i Fakty on Monday, speaking about the consequences of Ukraine's possible entry into NATO.
It will actually be about the third world war, he stressed.
The Ukrainian people will overcome all trials and choose a better future and successful economic model, which may not be necessarily connected with the European Union, the more so, since the country's chances of joining the EU look slim, he announced.
"The more so – I'll say it again – Ukraine's membership chances, despite the status of a 'candidate' slim," he added, noting that "cynical Europeans directly say so outright, looking into the eyes of the Ukrainian leaders, wide open with surprise and psychostimulants".
"I am sure that the Ukrainian people will overcome these trials. They will choose a better future, strong leaders, fair laws and a successful economic model. And I am not at all sure that this model will be connected with the European Union," he stated.
Medvedev believes that, in general, "Ukrainians had a hard time in recent years".
"On top of the economic difficulties there have piled up various orange and other Maidans, a succession of random and strange personalities in the presidential seat, and constant attempts by the West to turn Ukrainians into obedient servants (including literally, if you recall what Ukrainians have to do in the EU countries)," Medvedev said.
During its special military operation in Ukraine, Russia is fighting Nazis and thugs while it has deep respect for Ukrainian people, according to Medvedev.
He emphasized that "by providing help to the Donetsk and Lugansk People's Republics, Russia is not fighting Ukrainian people. The battle is against despicable Nazis, extremist groups, egregious bandits and foreign mercenaries who joined them".
He reiterated that the goal of the special military operation is to stand up to the neo-Nazi forces that came to power in Ukraine and had been terrorizing the population of the Donbass republics for years. The official also noted that Russia's Armed Forces are striking military targets and not residential buildings.
"As opposed to the Ukrainian Nazis who are using civilians as a human shield," he noted citing the events in Mariupol as well as hostage situations at Azovstal and Azot enterprises as examples.
Russia's special military operation in Ukraine is being conducted because freedom is better than lack of it, Medvedev added.
Responding to a question as to what he now thinks about a slogan that became a key message of his presidency, Medvedev said, "The same."
"Freedom is better than lack of it. This is precisely why currently the special operation on defending Donbass, on the demilitarization and denazification of Ukraine is being conducted," the official continued.
Sweden and Finland may join NATO at their own risk and face the consequences, Deputy Secretary of the Russian Security Council Dmitry Medvedev cautioned in an interview with Argumenty i Fakty on Monday.
Stockholm and Helsinki accession to NATO does not add any new threats, he noted.
"These countries used to have relations with Russia that could be called quite respectful and mutually friendly. Though, of course, different things happened in the past," Medvedev went on to say.
"We have no territorial disputes with these countries currently and do not anticipate any, there are no reasons for them whatsoever. If they feel themselves better and safer by joining the alliance, let them do it," the politician added.
Medvedev pointed out that NATO was already close to Russia's borders, even without Sweden and Finland.
"But, of course, we will be ready for counter-moves," he cautioned.
The politician went on to add that decades of experience show that the aggravation in relations with Russia is "senseless and not cheap".
Russia's opponents expect that either it will bow to them or its economy will collapse, but this will not happen, Medvedev said.
"It is clear that all these blockades and bans are long term ones. Our opponents are waiting for us to either bow to them, or our economy will collapse. They assure their citizens that 'hellish sanctions' against Russia are about to bring it to ruin. I have to disappoint them: this is not going to happen," he added.
Medvedev said that the West "underestimates Russia, as usual, or, more precisely, tries wishful thinking".
Ukraine's possible accession to NATO poses more danger to Russia than the membership of Sweden and Finland, Medvedev sadded.
When asked to assess the two threats, he pointed out that "the answer is clear".
"Ukraine would be far more dangerous for our country as a NATO member," Medvedev stressed.
He explained, citing Russian President Vladimir Putin, that unsettled territorial disputes and different understandings of territorial statuses were the reason.
"For us, Crimea is part of Russia, and it's forever. Any attempt to encroach upon Crimea would be equal to a declaration of war against our country. If a NATO member state makes such a move, it will lead to a conflict against the entire North Atlantic Alliance, World War III, a total disaster," Medvedev pointed out.
Russia will be able to develop its industry and make sizeable "holes" in the sanctions "curtain", according to Medvedev.
He asserted that "this is absolutely not the first time in our history that we are being pressured with all might. And we can only count on our own resources and intelligence. Even in the most difficult times we did not submit to pressure and the iron curtain did not become an obstacle for us. And now, I am confident, the same will happen – we will be able both to develop our industry and to make sizeable holes in this curtain".
According to Medvedev, the country's technological sovereignty is one of the main conditions of Russia's independence and security. In his opinion, it is particularly significant for critically important infrastructure and the strategic spheres of the economy.