More Israeli Massacres in Gaza amid Calls for "Humanitarian Truce"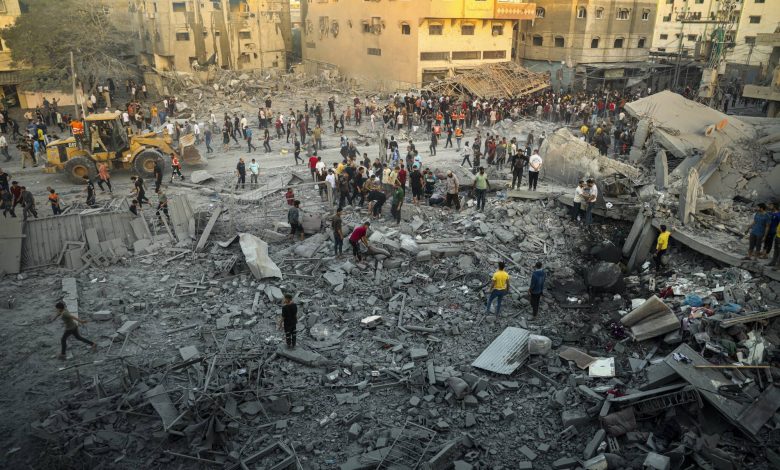 The Palestinian Ministry of Health in Gaza said on Tuesday that dozens of Palestinians were killed and others wounded in a new Israeli massacre in Deir al-Balah, in central Gaza.
Despite repeated calls for a humanitarian truce, Israeli forces have been carrying out intense bombing throughout several areas of the besieged Gaza Strip.
Over the last 24 hours, Israeli warplanes targeted densely populated areas in the refugee camps of Shati and Al-Maghazi, as well as in Khan Yunis, Al-Zaytoun and Al-Sabra.
The airstrikes also targeted a building belonging to Al-Shifa Hospital and the vicinity of the Indonesian Hospital in northern Gaza.
Starting on Saturday, Israel has intensified its bombardment of the Strip on Saturday, hitting schools, mosques, and more hospitals. 
Israel has, thus far, killed over 10,328, including 4,237 children, and wounded nearly 26,000 wounded. Palestinian Ministry of Health reports and international organizations say that the majority of those killed and wounded are women and children.
Despite a massive Israeli military buildup around the Gaza borders and sporadic infiltrations on the outskirts of the besieged Strip, Palestinian Resistance continues to repel Israeli attacks.
Gaza has been under a tight Israeli military siege since 2007, following a democratic election in occupied Palestine, the results of which were rejected by Tel Aviv and Washington. 
To justify its military failure, the Israeli army continues to pound civilian homes throughout the Gaza Strip with new massacres reported everywhere in the besieged enclave.