Names and numbers: Money empire and the companies affiliated to the Brotherhood organization in Egypt and the world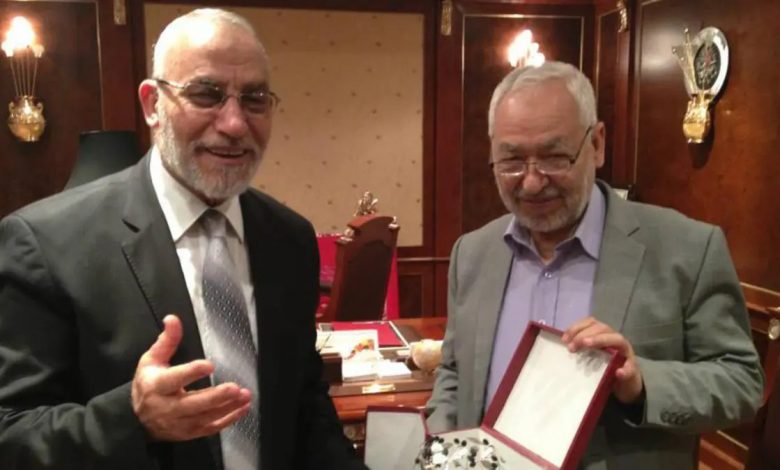 Surprises about the investment empire and Brotherhood organization's funds network in Egypt in the world, revealing this time the companies, shares and stocks allocated to the leaders of the international organization, fortunes in their names, sons ,wives, and even with other names it was known later that they had married a large number of women's secretly.
Security sources reported that Khairat Al-Shater, Deputy General Guide of the Brotherhood organization, controls a large fortune and many companies operating in various activities and fields in and outside Egypt.
Rashid Ghannouchi, the head of the Tunisian parliament and the official of Al-Nahda Brotherhood movement in Tunisia and his sons, also owns a fortune estimated at about one billion dollars that he manages. His sons, Suhail and Moaz, and Rafiq Abd al-Salam "his son-in-law", including about 3 companies in France.
Mahmoud al-Ibbari, leader in the international organization and residing in Britain, owns two companies in Europe and stakes in several companies in Malaysia, a large wealth of the group's funds and stakes in companies in America and Canada.
As for Ibrahim Munir, the current guide acting and residing in London, he is the responsible of all the investments and funds of the Brotherhood funds after the arrest of Mahmoud Ezzat and Khairat Al-Shater, he owns shares in 17 companies owned by the Brotherhood in Europe and Asia.
Which has been confined so far from the property and wealth of Khairat al-Shater, the deputy guide, all of which he obtained from the organization's funds and a percentage of its operations according to the papers and documents obtained by the Egyptian authorities.
Also, he owns about 75% shares of "Rawaj" company, which works in import and export of household appliances, he succeeded through this company in taking large shares of companies and agencies, including "Istiqbal" furniture company, "Madoc" companies for home appliances, the "Dalydress" company for clothes, and the "Daniel Kremouh" company.
By searching for the other 25% in ownership of these companies, and to whom it will be transferred, it has been proven that the proceeds go to Hamas without having official documents proving its ownership of it.
Al-Shater owns 39% shares of the "International Company for Electronic Computer Systems", 35% of the "Al-Anwar Trading and Agencies Company", 35% of the "Al-Fajr Company for Trade of Threads and Textiles", and 33% of the shares of "Purity Trading Company for Chemicals ", 45% of the shares of" Salsabil for the provision of technical, practical and administrative services, "80% of the shares of" Salsabil Company for Development, Investment and Project Management, "40% of the shares of" Malek Electric Company for the Production of Electrical Tools ", and 80% of the shares ICG Computers Import Company, and 50% shares for Islamic Printing and Publishing House.
The sources revealed that Brotherhood and Hamas money was invested in companies with indirect ownership, whose ownership belongs for 5 groups, and its owners were Khairat Al-Shater, Hassan Malik and Abdul Rahman Saudi.
Two other names among the owners, Ahmed Shousha and Mamdouh Al-Husseini, as the profits of Hamas' shares came from companies run by the two, and it works in the field of real estate investment, construction, design, import, export, car agencies, land transport and printing.
Also, there was informations about the existence of shares for Mahmoud Ghazlan, a member of the Guidance Office, in an agricultural project company called "Al-Waha", shares for Hussam Abu Bakr, a member of the Guidance Office, in an elevator company, shares for Mohsen Radi, one of group leaders, in schools called "Al-Fath", "Al-Rehab Company for Artistic and Film Production", shares for Saad Al-Husseini, a member of the Guidance Office, in "Hijaz Company for Employment Funds," shares for Rashad Al-Matini, a leader in the organization and Minister of Transport during the era of Brotherhood, in an engineering consultancy office, and share for Bassem Mahmoud Hussein, Secretary-General of the group.
The surprising thing is that the organization received a financial donation of $ 10 million annually from a Gulf businessman who died years ago, and 12% of this donation was allocated to Almorshid expenses, while the great surprise was that a percentage of the organization's funds were allocated to the expenditures of leaders in Al Qaeda and Islamist group, such as Asim Abd al-Majid, Tariq al-Zumar, and the families of some families of al-Qaeda leaders fleeing abroad.
According to our information, cooperation between the Brotherhood and Al-Qaeda has been in place since the establishment of Al-Qaeda in Afghanistan in the eighties of the last century, when the Egyptian security services monitored a meeting that took place in Afghanistan in 1986, the Islamic Al-A'la Al-Mawdoudi participated in this meeting,  Al-Qaeda leaders traveled from Switzerland there led by Ayman Al-Zawahiri, and it was agreed on cooperation, coordination, non-conflict of interests, and Brotherhood must fund al-Qaeda.
Those years, after the Brotherhood controled the power in Egypt in 2012, the security services monitored a strange call to Ayman al-Zawahiri, Al-Qaeda leader, the call came from the Ambassador Muhammad Rafa'a al-Tahtawi, head of the Presidency Office in Egypt during the presence of the Brotherhood President Mohamed Morsi in power he spoke with Tahtawi first them Morsi.
During the call, it was agreed to fully coordinate in Libya to help the groups affiliated to Brotherhood in controlling everything, Al-Zawahiri asked Morsi to send an Egyptian Brotherhood delegation to Libya to coordinate with Nazih Abdel Hamid Al-Ruqai, ​​known as "Abu Anas Al-Libi," a Libyan engineer in information technology He worked as a computer and communications specialist for Al-Qaeda, and he was one of the organization leaders in Libya. Al-Zawahiri asked in return for financial support for the Brotherhood leaders, Jihad and their families, release some of them from prisones through a presidential pardon issued by Morsi, and to release Dr. Omar Abdul Rahman, the Mufti of the Islamic Group, who was being held in America.