'New Algeria' faces domestic and regional challenges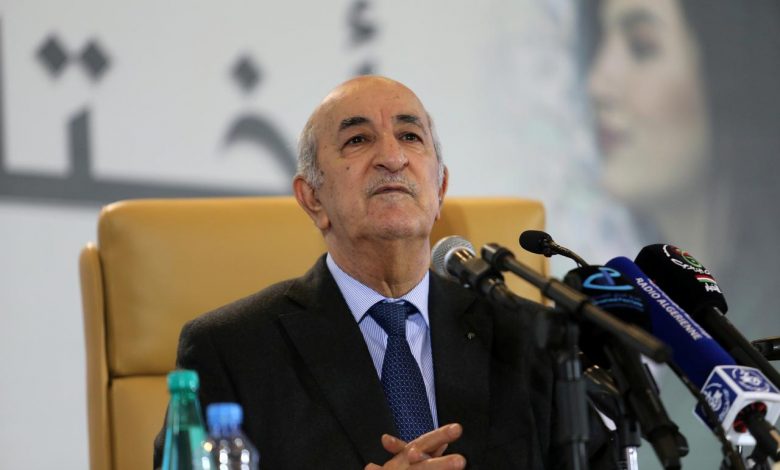 The disenchantment of Algerians with the new constitution promised by President Abdelmadjid Tebboune was apparent in the low turnout in the Nov. 1 referendum: Just 24 percent of the electorate of 25 million bothered to vote. Sixty-six percent of this paltry figure gave its approval to the document.
The constitution put forward for national endorsement was the president's response to the demands for sweeping changes in the political order that came from the streets of Algeria. These demonstrations, referred to as "Hirak," began in February last year as a protest against then-President Abdelaziz Bouteflika's decision to seek a fifth term of office.
Hirak's demands — articulated by thousands joining the peaceful demonstrations every Friday for more than a year — evolved to seeking a complete overturning of Algeria's authoritarian order, which was marked by corruption, nepotism and repression, and its replacement by a democratic system that reflected popular aspirations. To achieve this, the call from the street was for a national dialogue followed by a popularly elected constituent assembly.
Hirak only met with partial success. Bouteflika stepped down and a large number of his close associates were tried and jailed. But the order did not change. Against Hirak's wishes, the army pushed through presidential elections that, with just a 39 percent turnout, brought Tebboune, an old associate of Bouteflika's, to high office.
The latest referendum was Tebboune's attempt to end the Hirak movement's agitations by asserting that its principal demands had been met. Noting that Nov. 1 marked the commencement of the Algerian freedom movement in 1954, a major campaign slogan was: "November 1954: Liberation. November 2020: Change."
Tebboune's confident assertion was based on the widespread repression of dissent in the run-up to the referendum. Several of Hirak's protagonists were arrested, along with journalists, social media activists and free press advocacy campaigners, while a French television channel was banned. Critics see no change from the Bouteflika period.
The president sought to end Hirak's relevance by including in the preamble of the new constitution a reference that it is the reflection of the "will of the people," expressed through its "authentic blessed Hirak," which has "put an end to (past) errors."
This verbal jugglery has no takers in Hirak. The constitution was shaped by a body of experts nominated by Tebboune, not by a constituent assembly. It provides for an all-powerful presidency that effectively blurs the separation of powers: The president names and can remove the prime minister; he can veto laws passed by the national assembly; he nominates a third of the members of the senate; and, as president of the High Council of the Magistracy, he can appoint and dismiss judges.
Besides provisions relating to domestic affairs, one aspect of the constitution has important regional geopolitical implications: Articles 28 and 29 provide for cross-border operations by the Algerian armed forces, subject to them being sanctioned by parliament, the Arab League, the African Union and the UN. Though cautiously worded, this is a change from the earlier constitutional provision that restricted the armed forces' role to defending national borders.
The justification for this is that Algeria is in a dangerous neighborhood. There is an ongoing civil conflict in Libya, relatively weak state order in Mali, Niger and Mauritania, which could provide bases for violent anti-state activity, and there has been a proliferation of extremist cadres across the region, including the local affiliate of Daesh, Jund Al-Khilafah, in Algeria. On top of this, a number of extra-regional powers — Turkey, Russia and China — are consolidating their economic and even military presence in North Africa and the Mediterranean.
The new constitutional provision thus signals an active Algerian role in the regional security scenario. This factor has already ignited American interest. The US' Africa Command head Gen. Stephen Townsend and then-Defense Secretary Mark Esper were in Algeria in late September and early October, the first visits by senior US officials in several years. Given its substantial military capabilities, shaping a regional role for itself will be a new challenge for Algeria.
Given its substantial military capabilities, shaping a regional role for itself will be a new challenge for Algeria.

Talmiz Ahmad
Algeria is on the cusp of significant domestic and regional uncertainty. While Tebboune is clearly opposed to fulfilling Hirak's demand to usher in a full-fledged democracy, he perhaps hopes to appease the people with some dose of political reform and also economic benefits, given how parlous their situation is due to the coronavirus disease pandemic.
The country's budget for 2021 envisages growth of 4 percent, as against a decline of 4.6 percent this year. Given the higher oil and gas revenues projected for next year, the budget promises a 4 percent increase in subsidies to cover food, health and housing, as well as the development of remote areas hit hard by the pandemic.
While Hirak protesters are naturally disappointed with the new constitution, it should be noted that all constitutions are inherently inert; they obtain their life force from the good sense of leaders, the efficacy of watchdog institutions, and the scrutiny of popular opinion. How the nation turns its domestic and regional challenges into vibrant opportunities will determine the emergence of a "New Algeria."