New Nakba is ongoing in West Bank alongside a genocide in Gaza Strip
Following weeks of atrocious Israeli settler violence amid the ongoing genocide in Gaza, the 150 Palestinians in Khirbet Zanuta will be forcibly displaced once again.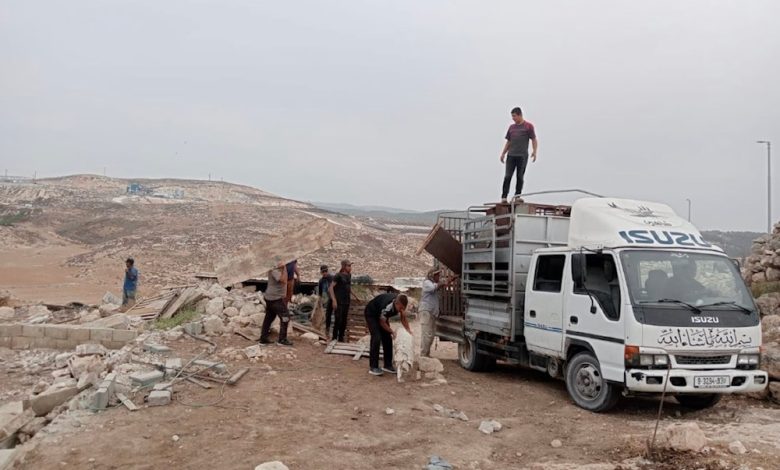 Living in Khirbet Zanuta, an occupied Palestinian village situated on a windswept hill in the southern Al-Khalil hills of the West Bank, has always been a daily struggle for its 150 residents.
The Palestinian community of herders endured decades of brutal assaults and daily oppression by Israeli occupation forces side by side with Israeli settlers' violence, yet they resolutely chose to remain in their homes.
However, following weeks of atrocious settler violence amid the ongoing genocide in Gaza, the 150 residents of Khirbet Zanuta have been forcibly displaced once again. Armed settlers, some of whom were dressed in reserve army uniforms and others concealing their identities, have started to break into their homes during the night, assaulting adults, vandalizing and looting possessions, and traumatizing their children.
'A new Nakba'
Men and women were in tears as they were forced to disassemble their homes on Monday, hastily loading solar panels, animal feed, and personal items onto pickup trucks. The sounds of the demolitions by Israeli bulldozers filled the air, and the resulting dust and debris shook them to the core.
According to The Guardian, Issa Ahmad Baghdad, 71, was quoted as saying, "It is a new Nakba," in reference to the expulsion of hundreds of thousands of Palestinians in 1948 after the Israeli occupation of Palestine.
"My family are going to Rafat. But we don't know anyone there. We don't know what to tell the children," he added.
In the Gaza Strip, where "Israel" is committing genocide, resulting in the killing of over 8,500 Palestinians including 3,542 children, survivors are trapped and unable to find a haven. They are also deprived of food, water, medicine, and fuel due to the total Israeli blockade on the Strip.
Amid the ongoing Israeli aggression on Gaza, senior Egyptian security sources have lately confirmed that the Israeli occupation entity sought to propose and "recommend" corrupt "suggestions", noting that among them was the suggestion to "settle the people of the Gaza Strip in Sinai."
Meanwhile, in the West Bank, Palestinians are being tortured, detained, killed, or forcibly displaced from their homes.
It is worth noting that the number of Palestinians killed by Israeli occupation forces in the West Bank alone since October 7 has reached 114, and more than 1,900 have been injured.
The Palestinian Prisoners Society NGO has lately reported that Israeli occupation forces have arrested 1,740 Palestinians in the West Bank since October 7.
Concurrently, disturbing videos have emerged on social media, showing Israeli soldiers torturing and physically abusing Palestinian detainees who are lying on the ground, naked, with their hands and feet bound.
'My daughters are terrified'
Khirbet Zanuta, situated within Masafer Yatta in the occupied West Bank, primarily falls under full Israeli control and has consistently faced the threat of being usurped.
In this area, Palestinian infrastructure, including water cisterns, solar panels, roads, and buildings, is regularly razed, typically under the pretext of lacking the requisite building permits, which are exceptionally challenging to acquire. Concurrently, illegal Israeli settlements nearby continue to prosper.
While bursting into tears, Amin Hamed al-Hudarat, 41, said, as quoted by The Guardian, "We have had hard times in the village since the settlers started the Mitarim farm across the valley three years ago. It has been harder to take the sheep out, and the settler young men destroy things like crops, or steal sheep, or call the army to come and harass us. But now they are coming into our homes. My daughters are terrified." 
"I had thought we might need to leave before, but we did not expect it to happen like this. I can't believe that by tomorrow I am going to leave my home. We are going to camp on the outskirts of Deira, but I don't know what will happen next, what I will do for work, what we will do with the sheep. My whole life is in Zanuta."
"The community is breaking up. I don't know when I will see my neighbours to chat and tell stories and drink coffee again," he added.
'We would come back and kill you'
With entire Palestinian villages like Khirbet Zanuta being usurped, there is a concern that this will trigger a ripple effect in the region, warned Nasser Nawadja, a field researcher hailing from the village of Susiya for the human rights group B'Tselem. Nawadja has faced numerous beatings and arrests in the course of his work, he said as quoted by The Guardian. 
"Settler violence is now worse than ever. Sometimes, they are wearing reservist uniforms, and we don't know who is the army and who is a settler any more," he said.
"The people in Tuba were given a 24-hour ultimatum to leave, or the settlers said they would come back and kill them. That was on Saturday. We don't know what will happen next," he stated.
On Monday, there was a constant stream of pickup trucks traveling along the rugged path to the main road, initially departing fully loaded and returning a few hours later to retrieve additional possessions from their now-devastated Palestinian village. Three Israeli soldiers were stationed near an armored patrol vehicle at the junction leading to the main road, orchestrating the operation of stealing more Palestinian land.
As reported by B'Tselem, over the past three weeks, 858 Palestinians from 32 distinct communities, encompassing a total of 13 entire communities, have been forcibly displaced due to settlers' violence under the Israeli occupation. These figures continue to rise daily.
 
"I don't know when I will be able to come back again," said Hudarat. "I think I am saying goodbye to my home for ever."