New Turkey-GNA deal to train mercenaries: Africa Intelligence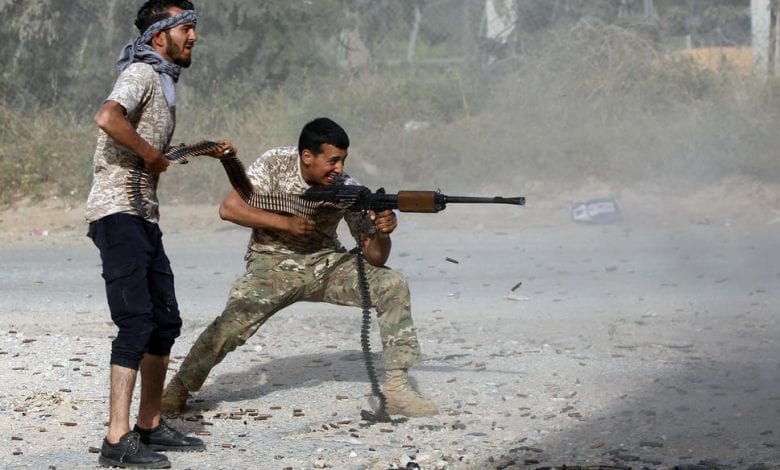 Turkey and the Tripoli-based Government of National Accord (GNA) agreed on a new deal to train mercenaries, Africa Intelligence reports.
According to Africa Intelligence, Sadat, which according to the report works under the supervision of the Turkish intelligence agency, signed a partnership with the Libyan security company to train the forces fighting alongside GNA, noting that the Turkish security company was trying several months ago to win military training contracts in the wake of Turkey's extensive intervention in Libya.
The French website, which is close to several Western intelligence services, said the Turkish Sadat military company, sighed a contract with a security company managed by a Libyan man named Fawzi Abukatef, whom the website says is leading figure of the Muslim Brotherhood.
The report also indicated that Sadat could use its services to train the Syrian fighters that Turkey sent to fight against the Libyan National Army (LNA).
A conflict sparked last year GNA and LNA after the latter launched a military operation in the capital.
The conflict was aggravated by security agreements signed last November between GNA and Turkey, which paved the way for Ankara to send its own troops as well as Syrian mercenaries to fight with GNA.
Earlier this month, LNA forces unilaterally retreated from Tripoli and other western cities in an effort to establish a ceasefire and relaunch the peace process. However, Turkey-backed GNA armed groups exploited LNA's withdrawal to attack Tarhuna, Sirte and Jufra.
Over 2,000 people were displaced from those cities following GNA's offense.