Palestinian Authority: Israeli occupation 'fully responsible' for 'dangerous escalation'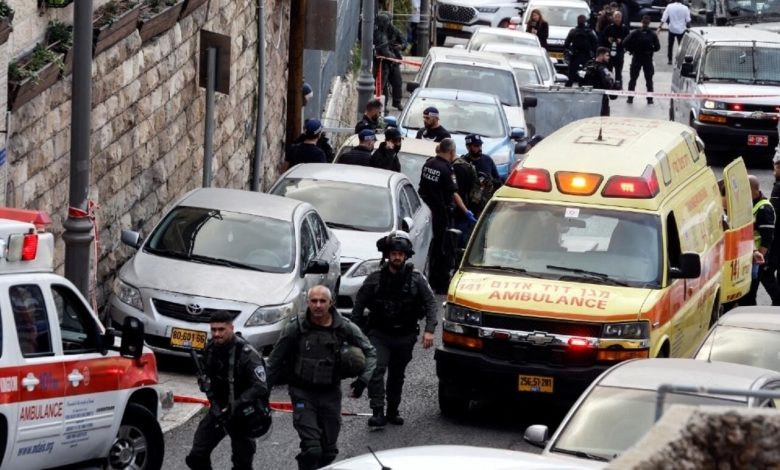 PA statement cites 'colonial settlement practices, land annexation, home demolitions, raids, ethnic cleansing, apartheid, storming of al-Aqsa'
Following the two attacks in Jerusalem in the past 24 hours, the Palestinian Authority said on Saturday it holds Israel "fully responsible for the dangerous escalation" in violence.
Seven Israelis were killed on Friday in a shooting spree by a Palestinian martyr outside a synagogue in Jerusalem while two others were wounded in an shooting attack in the city on Saturday morning, perpetrated by a 13-year-old Palestinian. On Thursday, the Israeli occupation forces  attacked Jenin refugee camp in West Bank, where nine martyrs were killed.
"The Palestinian leadership holds the Israeli occupation regime fully responsible for the dangerous escalation of the situation due to its crimes, which amounted to 31 martyrs in the course of the current month," the PA's Security Council said in a statement quoted by the official WAFA.
The statement condemned Israeli occupation over "its colonial settlement practices, land annexation, home demolitions, raids, ethnic cleansing and apartheid, the desecration of Islamic and Christian holy sites, and storming of Al-Aqsa Mosque which will lead to further deterioration, threatening security and stability in the entire Middle East region."
"The Palestinian leadership salutes our Palestinian people in all places of their presence for their steadfastness, peaceful popular resistance, and their adherence to their legitimate national rights and to the Palestine Liberation Organization as the sole legitimate representative of our Palestinian people, the leader of our struggle for freedom and independence," the statement adds.