Palestinian Children, Bank of Targets in Israeli Aggression on Gaza
The Israeli onslaught on Gaza has resulted in the loss of 500 young Palestinian lives, with another 1,644 children injured.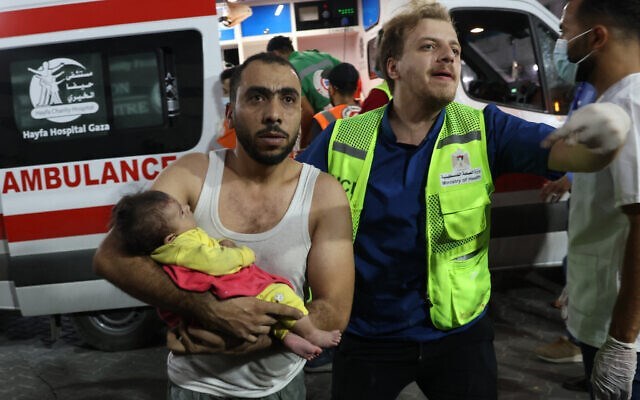 The Israeli occupation forces persist in committing massacres against Palestinian families, even against children under six years old, in a flagrant violation of fundamental human values.
According to the most recent figures from the Palestinian Ministry of Health, the Israeli aggression on Gaza has led to the martyrdom of 1,537 individuals, including 500 children, and the injury of 6,612 people, with 1,644 of them being children.
Social media platforms have been inundated with horrifying video clips and deeply distressing images of children who have fallen victim to the Israeli war machine. Some of these children were rescued from under the rubble of their homes, which had been bombed overhead. Other chilling images featured children resting in mortuary freezers.
These visuals underscore the extent of the atrocities committed by the Israeli occupation against children. Their innocent lives were tragically extinguished as they were targeted alongside their families with heavy missiles.
As for the survivors, they face severe hardships amid a total blockade and an Israeli threat of an imminent ground invasion. The spokesperson of the Palestinian Ministry of Health in Gaza Ashraf al-Qidra told Al Mayadeen that the health sector in Gaza is collapsing as medicines run out amid power outages.
Al-Qidra went on to highlight that "medications are running dangerously low, and patients and injured individuals in Gaza hospitals are resorting to lying on the floor due to the unavailability of beds in the intensive care units. Meanwhile, lines of patients are waiting outside the operating rooms."
Hospitals risk turning into morgues'
Meanwhile, UNICEF warned that approximately one million children are in dire need of protection and humanitarian support.
It is likely that the number of martyrs and wounded will continue to rise, with many people trapped under the rubble, while the humanitarian conditions are extremely difficult amid great pressure facing hospitals, which are at threat of going out of service when they run out of fuel soon.
Moreover, the World Health Organization called for immediate humanitarian access to the Gaza Strip, warning that the ongoing Israeli blockade and bombardment have left the Strip's health system at "breaking point".
The United Nations' health agency urged the opening of a humanitarian corridor to allow health workers into the territory, as well as the evacuation of the sick and injured.
"Without the immediate entry of humanitarian aid into Gaza – especially health services, medical supplies, food, clean water, fuel, and non-food items – humanitarian and health partners will be unable to respond to urgent needs of people who desperately need it," the agency said in a statement late on Thursday. "Each lost hour puts more lives at risk."
The agency also called for the immediate opening of the Rafah border crossing on the border with Egypt.
"WHO is ready to immediately dispatch trauma and essential health supplies … to ensure that they can reach the Gaza Strip via the Rafah border crossing," the WHO said. "Urgent access through the crossing is essential so that WHO and other humanitarian agencies can act quickly to help save lives."
Commenting on the dire situation, Fabrizio Carboni, the regional director for the Near and Middle East for the ICRC, said in a statement on Friday, "As Gaza loses power, hospitals lose power, putting newborns in incubators and elderly patients on oxygen at risk. Kidney dialysis stops, and X-rays can't be taken."
"Without electricity, hospitals risk turning into morgues."