Palestinians call for new protests after activist Nizar Banat 'beaten to death' in PA custody
Autopsy on Nizar Banat shows he did not die naturally, doctor says, after family accuses PA security forces of beating him during arrest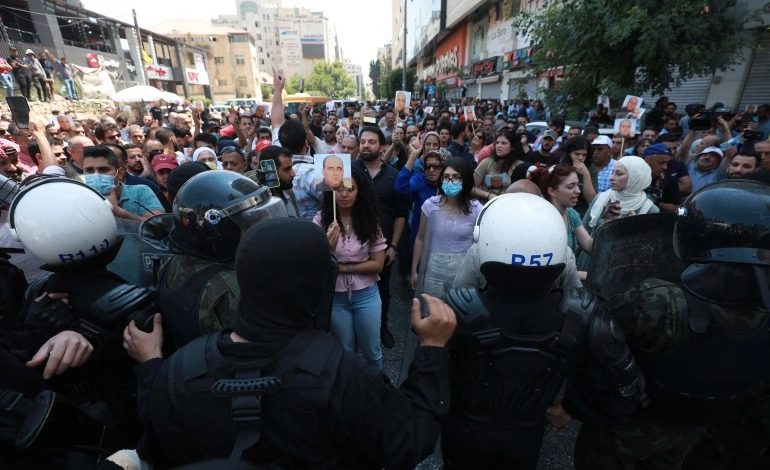 Palestinians sources said, on Friday, that security forces attacked two demonstrations in Ramallah and Bethlehem on Thursday evening, condemning the assassination of activist and political opponent Nizar Banat.
Added, "Palestinian activists calls for demonstrations today, Friday, denouncing the assassination and calling for the departure of Palestinian Authority President Mahmoud Abbas".
The US added its voice to calls for an investigation into the death of a prominent critic of Palestinian leader Mahmoud Abbas who died in Palestinian Authority custody Thursday, as an autopsy showed that his death was not from natural causes.
Nizar Banat, 44, died after what his family said was a violent arrest by PA security forces early Thursday, including being beaten with batons.
Dr. Samir Abu Zaarour, a forensic pathologist for the Independent Commission for Human Rights who attended an autopsy on Banat, said the death was "unnatural" and ruled out a heart attack or stroke.
He told reporters that injuries on Banat's body indicated he had been beaten on the head, chest, neck, legs and hands.
Banat was well-known for his caustically sarcastic videos tearing into the PA leadership, including Abbas, for alleged corruption and fraud. He had also called on Western nations to cut off aid to it because of its authoritarianism and human rights violations.
The EU delegation to the Palestinians tweeted that it was "shocked and saddened" by Banat's death and called for a "full, independent, and transparent investigation." The UN's Mideast envoy, Tor Wennesland, said the "perpetrators must be brought to justice."
The US State Department echoed those calls. In a statement, it expressed "serious concerns about Palestinian Authority restrictions on the exercise of freedom of expression by Palestinians and harassment of civil society activists and organizations."
In a statement confirming Banat's death earlier, Hebron Governor Jibrin al-Bakri said that a unit of PA security forces had entered a house where Banat was hiding in the morning with a warrant for his arrest.
"During [his arrest], his medical condition deteriorated, and he was immediately referred to the Hebron public hospital for treatment. Doctors at the scene who examined him found he was dead," al-Bakri said.
But Banat's family, who say they were with him during the arrest, accused over twenty PA officers of violently beating him.
Mohammed Banat, a cousin who witnessed the arrest, said a group of men, some wearing masks, burst into the house where Nizar was staying and sprayed everyone with pepper spray.
"They beat Nizar with batons on his head and body," he told The Associated Press. "They did not identify themselves and we did not recognize them. They arrested Nizar and disappeared."
He told Palestinian reporters outside the Banat home in Dura, that the "vicious beating" lasted eight minutes.
Speaking to the Al-Quds news website, other members of Banat's family accused security forces of "hitting him on the head with wooden sticks and bits of iron" and "deliberately murdering" him.
The death ignited fury on the Palestinian street. In Ramallah, thousands of protesters tried to march to the PA's headquarters, chanting "The people want the downfall of the regime," and "Abbas, you are not one of us, take your dogs and leave."
Palestinian security forces fired tear gas at the marchers and beat people with wooden batons.
As night fell, angry protesters set fires, blocked streets and faced off against riot police.