Palestinians celebrate a ceasefire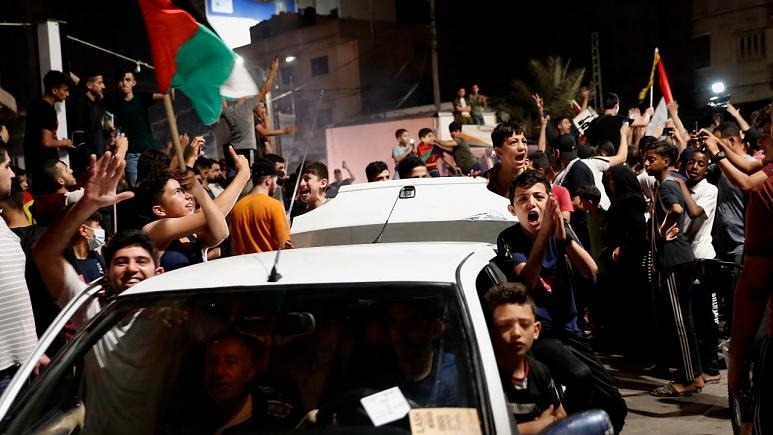 Israel and Hamas have agreed to a ceasefire. That is good news for everyone involved. The dying can hopefully end and further destruction be avoided — at least for now.
As the smoke clears, the vast devastation of Gaza becomes apparent and the slow and frustrating process of rebuilding must resume.
The economy of Gaza has long suffered under an Israeli blockade and has been struggling to rebuild after the last war between the two sides in 2014.
The devastation caused by the current Israeli air attacks has added massively to Gaza's infrastructure problems, and vast amounts of foreign aid will be necessary over the coming years. It is not clear who will provide the funding.
Mohammed Dahlan
MP Muhammad Dahlan, leader of the Democratic Reform Movement in Fatah movement, said: "We are looking for Ceasefire truce to comes into force under Egyptian care"
We are proud of our brave heroes who impressed the whole world in Jerusalem, Gaza, Sheikh Jarrah, and all our Palestinian cities and villages from Ras Naqoura to Rafah, those resistance arms with stones, weapons and above all with bold hearts that do not fear anything. "
Dahlan added on his account on "Facebook": "In these hours, we must not lose our caution even for a moment in front of an enemy who killed Palestinian children and women brutally, thinking that the shedding of Palestinian blood will terrorize them, All respect for all those who defended there land with stones, rifles and honorable positions.
He added: "Palestine after this honorable battle will not be the same as it was before it internally, regionally and internationally."
On Thursday evening, Egypt announced that an agreement had been reached for a "mutual and simultaneous" ceasefire in the Gaza Strip, starting at 2:00 AM on Friday morning.
The number of Palestinian in the 11-day of war amounted to 232 martyrs and 1,800 housing units were destroyed, in addition to the destruction of schools, factories, economic facilities, shops, and infrastructure.