PDL leader Abir Moussi opposes presidency of the Brotherhood of Tunisian parliament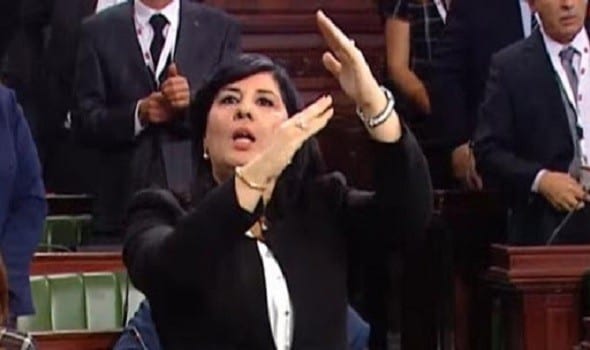 PDL leader Abir Moussi, called today, Wednesday, the representatives who signed the list to withdrawal confidence from Rached Ghannouchi, "to commit to public opinion not to vote for any deputy from the Al-Nahda Brotherhood Movement to succeed Ghannouchi in the presidency of the parliament."
Moussi announced her opposition to nominate any one of the representatives of the Al-Nahda Brotherhood to take over the presidency of the parliament, in the case that confidence is withdrawn from the Speaker of the Assembly of People's Representatives, Rached Ghannouchi.
She said in a statement to the local media on Wednesday, "The battle of her party is against Ghannouchi, his group and his organization," considering that the removal of Ennahda leader from Parliament against the backdrop of "the danger he poses to national security as a leader from the Brotherhood is a stage of a battle against political Islam in the country." As she put it.
How ever 76 deputies signed a second list of withdrawing confidence from the Speaker of Parliament, Rached Ghannouchi, according to what media sources reported on Wednesday, and it is expected that it will be presented to the Parliament Office to set a public session for deliberation, noting that its approval requires a majority of 109 votes out of 217.
Last July, Ghannouchi survived withdrawal of confidence after it was approved by 96 deputies, after the deputies of the Heart of Tunisia bloc, an Ennahda ally in Parliament, abstained from voting.