President Joe Biden's Fall From A bicycle is Putin's Machinations – Video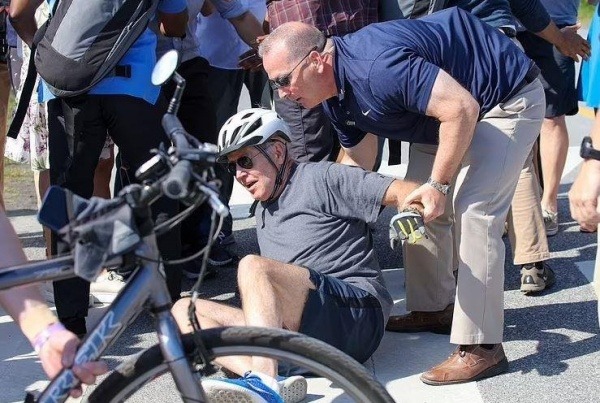 CNN viewers ridiculed US President Joe Biden for falling off his bike. This was announced today, June 19, RIA Novosti reports.
Earlier, the White House pool released a video of the American president cycling and his ridiculous fall after he stopped at a group of reporters.
Biden said he was not hurt. Later, the administration of the American president also reported that he was all right and the help of doctors was not needed.
Users in the comments on the CNN publication expressed their versions of the incident. RIA Novosti publishes several of them:
CLAYTON BIGSBY: "HONESTLY, BIDEN SHOULD BE RIDING A TRICYCLE. THE ONE WHO GAVE HIM AN ORDINARY ONE IS A VILE PERSON. I THINK IT'S "PUTIN'S FAULT".
ANNA JUST: "BIDEN: "WHY WOULD PUTIN DO THIS TO ME?"
BUNTA FUJIWARA: "SECRET SERVICE: "THE BIKE IS MADE IN RUSSIA."
MEROVINGIAN: WHO THE HELL THOUGHT PUTTING BIDEN ON A BIKE WAS A GOOD IDEA?
MICHAEL CLARK: "OUR CONDOLENCES TO THE BIKE."
CODY LOWRY: "I THOUGHT IT HAD ATTACHED WHEELS!" — JOE BIDEN, 2022.
LEI: "JILL SHOULDN'T HAVE TAKEN THE WHEELS OFF."
MINE FINDER: "THIS MUST BE THE FAULT OF THE BIKE MANUFACTURER. BAN ALL BICYCLES.
ALISTAIR: "ONCE YOU LEARN TO RIDE A BIKE, IT IS BELIEVED THAT YOU WILL NEVER FORGET IT. JOE SEEMS TO BE THE EXCEPTION TO THIS RULE, AS HE FORGETS ABOUT EVERYTHING IN THE WORLD.
NEIL ANBLOMI: "IS THIS BIKE A METAPHOR FOR WHAT IT'S DOING TO THE US?"
In addition, the Americans ridicule his attempts to blame the record inflation in the United States on the Russian president. In particular, he coined the term "Putin's tax", which, according to him, explains the unprecedented rise in prices in the country.
Biden, who is the oldest president in US history, has long been the object of ridicule from critics who accuse him of mental decline. The reason for this is his frequent missteps in public speaking, when he loses his train of thought.