Putin: Russia isn't against Ukraine discussing security guarantees, as long as 'Russia's Security is Ensured'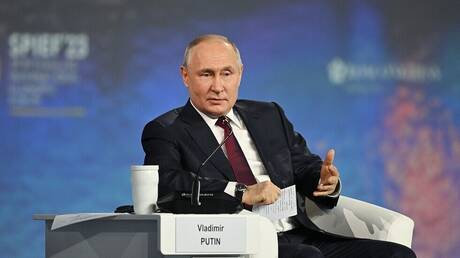 In an interview with Pavel Zarubin, a correspondent at the All-Russia State Television and Radio Broadcasting Company, Russian president Vladimir Putin said that Ukraine has a right to ensure its security, as long as it doesn't negatively impact Russia's security, commenting on the NATO Summit in Vilnius.
Putin said he believes every country should have the right to ensure its security, "whichever way it sees fit."
"There is just one restriction. […] One country ensuring its security shouldn't pose a threat to another country.
It is therefore our understanding that this principle, which has been clarified in many international documents, will be taken into account.
But Ukraine, of course, has the right to ensure its security […] For us, there's nothing out of the ordinary about what was just declared by NATO and the G7.
We are not against this type of discussion. But I'll repeat myself once more — under the necessary condition that Russia's security is ensured," said Putin.
"One of the reasons for the special military operation is the threat of Ukraine joining NATO. I am sure that it will not increase Ukraine's security, but will instead make the world much more vulnerable and will lead to further tension in the international arena. That's why I don't see anything good about this. Our position is well-known and formulated long ago," said the Russian president.
Ukraine's potential membership in NATO poses "threats to Russia's security," said Putin, noting that the Russian authorities have "repeatedly spoken about this."