Rockets fired from Gaza after Al-Aqsa Mosque attack
Palestinian health ministry says 20 killed in Israeli air raids on Gaza after Hamas fired rockets at Jerusalem.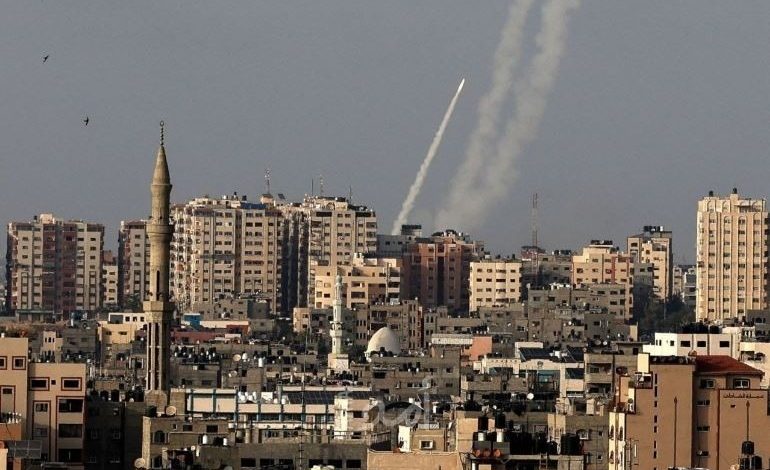 At least 20 Palestinians have been killed in Israeli air raids on the besieged Gaza Strip, according to the Palestinian health ministry, after Hamas launched rockets from the coastal territory towards Israel.
The Gaza health ministry told our reporters on Monday that 20 people, including children, had been killed in the attacks.
The attacks were carried out after Hamas fired several rockets at Israel, following the expiration of the group's ultimatum demanding Israel stand down forces from the Al Aqsa Mosque compound in Jerusalem.
Thousands of people rallied late on Monday outside the Israeli embassy in Ankara and the country's consulate in Istanbul in protest of recent Israeli violence against Palestinians.
'Tense situation' persists as more than 200 Palestinians injured
Nida Ibrahim, reporting from Ramallah in the occupied West Bank, said "it is still a tense situation".
"Now we are talking about more than 200 injuries that the Red Crescent teams have dealt with" in various cities in the occupied West Bank, including Nablus, Bethlehem and Ramallah, reported Ibrahim.
"If the air strikes in Gaza continue, then we are definitely looking at an escalation," she said.
Hamas military wing calls for Israel to lift 'siege' on Al Aqsa Mosque
A spokesman for the Al-Qassam Brigades, Hamas' military wing, said in a statement that the group would respond if Israel does not "break the siege on worshippers in Al Aqsa Mosque".
Israeli forces attack worshippers in Al Aqsa, again
Israeli security forces used stun grenades and tear gas to attack worshippers at Al Aqsa Mosque compound, once again.
Al Jazeera Arabic reported that the attack targeted worshippers leaving the compound at the Lions Gate, after they had finished performing Ramadan night prayers.
Israel will respond with 'great force' – Netanyahu
Israel will respond with "great force" to attacks, the country's prime minister said after Hamas fired several rockets at Israel.
"We will not tolerate acts that harm our land, our capital, our citizens and our soldiers," Benjamin Netanyahu was quoted as saying by the state-owned KAN news channel.
"Whoever attacks us will pay a heavy price," the Israeli prime minister warned.
The barrage of rockets from Gaza came following the expiration of Hamas's deadline demanding Israel cease attacks and pull its forces from the Al Aqsa Mosque compound.
Israeli strikes killing civilians 'act of terrorism' – Ilhan Omar
US Congresswoman Ilhan Omar said Israel's air raids in Gaza killing civilians were an "act of terrorism" and that Palestinians "deserve protection".
"Unlike Israel, missile defense programs such as Iron Dome, don't exist to protect Palestinian civilians," she tweeted.
Protest across occupied West bank in support of East Jerusalem
Nida Ibrahim reporting from Ramallah said "lots of spontaneous protests" took place across occupied West Bank in support of those in East Jerusalem.
"We've heard people chanting slogans in support … chanting for freedom, for Palestinians not to be evacuated from their houses [in Sheikh Jarrah]."
Moreover, Ibrahim said there were also calls for calls for protests from Palestinians who want these protests "near illegal Israeli military checkpoints and illegal Israeli settlements".
"Their cause is the same cause. They all believe that they're suffering under the Israeli occupation, and that's why they want to get to have their voice heard, and they want to voice their anger," Ibrahim said.
US call for de-escalation
United States Secretary of State Antony Blinken urged both Israel and the Palestinians to lower tensions.
"All sides need to de-escalate, reduce tensions, take practical steps to calm things down," Blinken said as he met his Jordanian counterpart Foreign Minister Ayman Safadi in Washington.
Safadi urged the United States to play a leadership role in reducing the violence.
Israeli PM wows to continue building in 'all' Jerusalem
Israel's Prime Minister Benjamin Netanyahu says he intended to build in "all of Jerusalem", calling it a "natural right in sovereign state", according to a statement released by his office.
"I am saying it clearly to our best friends, all of Jerusalem is the eternal capital of Israel and will continue construction in it, in all its neighborhoods , just like any other nation building and developing its capital," he said.
"This is a natural right in a sovereign state and we will not give it up and we will continue to practice it."
Berlin urges all sides to 'avoid further civilian casualties'
Germany called for all sides to "avoid further civilian casualties" after Israel launched deadly air raids on Gaza and Hamas fired rockets into Jerusalem.
"Nothing justifies rockets being fired on the civilian Israeli population," Foreign Minister Heiko Maas tweeted, adding it "certainly does not lead to the resolution of the conflict" but instead "a senseless further escalation".
US senator calls for stop to forced evictions, rocket attacks
United States Senator Chris Murphy expressed "great concern" about the "violence in and around Jerusalem" and called on Israeli and Palestinian leaders to "commit to a path of de-escalation".
"Hamas needs to stop rocket attacks, but Israel needs to stop the forcible eviction of Palestinians from their homes," Murphy said.
"This constant ratcheting up of violence may serve political interests but ultimately could lead to chaos and is ultimately going to get a lot of people killed," Senator Murphy warned in a conference call with reporters in Washington.
Turkish president vows mobilization against Israeli 'terror'
Turkish President Recep Tayyip Erdogan has promised to mobilize the world to stop Israeli "terror", in phone calls Monday to Palestinian leaders.
The Turkish leader pledged to "do everything in his power to mobilize the world, starting with the Islamic world, to stop Israel's terror and occupation," his office said.
In the calls to Palestinian President Mahmoud Abbas and Hamas leader Ismail Haniya, Erdogan denounced Israel's actions and extended support.
Twenty killed in Gaza, says Palestinian health ministry
Ashraf al-Qidra, spokesman of the Palestinian Ministry of Health in Gaza told Al Jazeera that 20 Palestinians were killed in Israeli raids on the Gaza Strip.
He told Al Jazeera's Walid Mahmoud that another 65 people were also injured in the air raids.
US says rocket attacks into Israel 'unacceptable escalation'
US State Department spokesman Ned Price said that rocket attacks by Palestinian armed groups in the Gaza Strip into Israel were an "unacceptable escalation".
Price made the comment at a regular news briefing, adding that the United States was "fully engaged" to promote calm in Jerusalem.
UK 'condemns firing of rockets at Jerusalem'
Britain condemned the firing of rockets at Jerusalem and other locations within Israel, calling for "immediate de-escalation on all sides".
"The UK condemns the firing of rockets at Jerusalem and locations within Israel. The ongoing violence in Jerusalem and Gaza must stop," Foreign Secretary Dominic Raab tweeted.
"We need an immediate de-escalation on all sides, and end to targeting of civilian populations."
Huge blaze in Al-Aqsa Mosque compound
A huge blaze broke out on Monday evening in Jerusalem's Al-Aqsa Mosque compound, visible from various parts of the city.
The cause of the blaze at the third holiest site in Islam could not immediately be confirmed, but it followed Israeli police forces storming the compound which medics said left 331 people wounded.
Biden administration voices concern
The Biden administration has serious concerns about the escalating violence in Israel as tensions simmer in Jerusalem, White House press secretary Jen Psaki said.
"We are continuing to closely monitor the violence in Israel. We have serious concerns about the situation, including violent confrontations that we've seen over the last few days," said Psaki.
UN Security Council holds closed meeting
Speaking from the UN headquarters in New York, Kristen Saloomey said discussion were continuing after a closed door meeting on Al-Aqsa took place.
"The official meeting has ended but the discussions are ongoing on a possible statement to be released to the press," said Saloomey.
"This emergency meeting was called by China which holds the presidency of the Security Council this month.
"And a draft statement was put forward by China, Norway and Tunisia in line with comments made by Secretary-General of the United Nations Antonio Guterres over the weekend, condemning the violence going on in Jerusalem, calling on Israel not to evict Palestinians from their homes in East Jerusalem, calling for restraint.
"We're told by diplomatic sources that the US expressed some reservations about the statement that was put forward. They're concerned that it won't be helpful to the situation," she added.
Israel strikes Gaza, killing Hamas commander, after rocket barrage
Israel's army said it launched air raids on Gaza, killing a senior Hamas commander, in response to rockets fired by Hamas following Israel's attack on Jerusalem's Al-Aqsa Mosque compound.
"We have started, and I repeat started, to attack military targets in Gaza," Israeli army spokesman Jonathan Cornices told reporters.
He said Israeli forces had targeted "a Hamas military operative," while Hamas sources in Gaza confirmed to our reporters that one of their commanders had been killed.
Three children among nine Palestinians killed: Witnesses
The Gaza health ministry said nine Palestinians were killed in Israeli air raids in the Palestinian territory after the barrages against Israel.
The Israeli military issued no immediate comment on any action it had taken in the enclave.