Ronaldo 'special' sends Al-Nassr third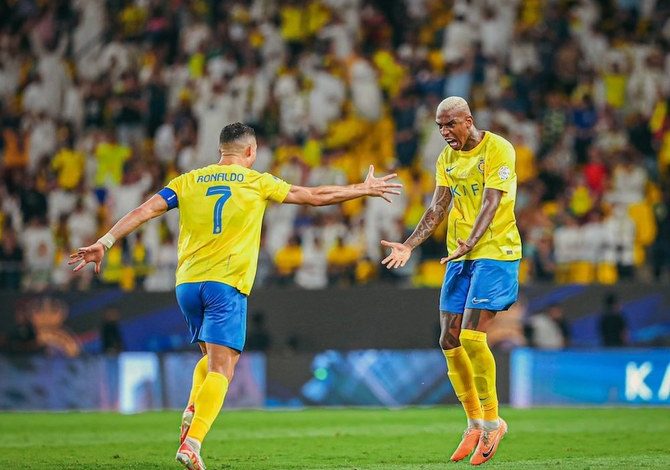 Al-Nassr fans displayed a "GOAT 7" tifo after a Cristiano Ronaldo "special" gave their team a vital 2-1 win at home to Damac on Saturday to go into third place in the Roshn Saudi League.
It had been looking gloomy as the Riyadh giants were a goal down at the break, but two goals in quick succession early in the second half, with Ronaldo scoring a spectacular free-kick to put his team in front, resulted in a victory that was celebrated wildly by the home fans.
While Damac had started the season slowly, they were looking for a third successive league win. Al-Nassr, meanwhile, wanted to return to winning ways after the 2-2 draw with Abha last time around ended a run of six successive league victories.
But this was always going to be a tough task. Coach Luis Castro was without Nawaf Al-Aqidi in goal and center-back Ali Lajami. Both picked up injuries while on international duty for Saudi Arabia, while Marcelo Brozovic did the same with Croatia and Sultan Al-Ghannam was suspended. 
Ronaldo, who played his 200th game for Portugal during the international break, was there, of course, and it took him just five minutes to put the ball in the net as he controlled a free-kick from deep deftly and then shot home, but he was adjudged to have been offside. It was a sign that the league's leading goalscorer was in the mood.
The game settled down with Abdullah Al-Khaibari forcing a save from Moustapha Zeghba with a shot from outside the area as the visiting defense backed off.
Then Damac were in front with a perfect counter-attacking goal on the stroke of half-time. Nicolae Stanciu picked up the ball deep inside his own half, though Al-Nassr appealed for a foul on Ronaldo. The Romanian then floated a long pass over the backline for Georges-Kevin N'Koudou, who outpaced the men in yellow and slotted home from just outside the area past the diving Raghed Najjar.
There was renewed energy as the Yellows came out after the break, and within eight minutes Anderson Talisca equalized.
Not long before Ronaldo had sent a free-kick wide and most expected him to have a second attempt, but it was Talisca who nipped in quickly to send a low left-footed shot around the wall and into the near bottom corner with the surprised goalkeeper scrambling unsuccessfully to get across his line in time. Shortly after, Talisca then headed against the bar from close range.
It did not matter, as Ronaldo put Al-Nassr ahead before the hour. This was another free-kick, and while all knew the Portuguese star was going to take it, nobody could prevent a perfect shot curling into the top corner to give Zeghba no chance. 
That was goal number 11 of the season for the five-time Ballon D'Or winner and, not for the first time in recent months, his name was chanted by thousands of home fans and the tifos were there for all to see. Nothing after could come close to that delight, though Najjar saved a 96th-minute free kick, but there had been enough to enjoy for anyone associated with Al-Nassr to appreciate.
Al-Nassr are now on 22 points after 10 games, one behind Al-Taawoun in second and four off leaders Al-Hilal, though there is still a long way to go.