Russia and China's contrasting approaches to Turkey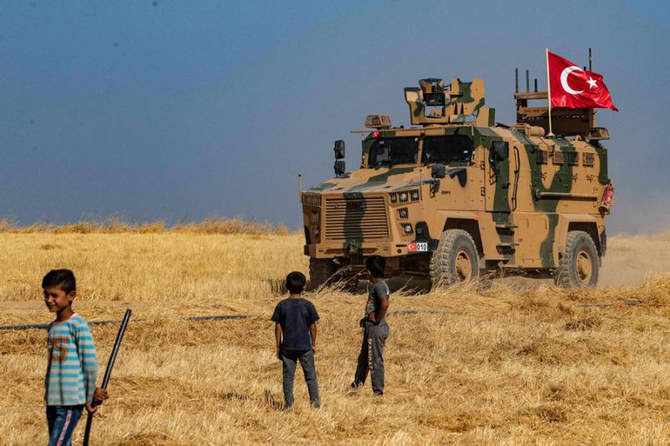 The non-regional actors — Russia and China — have been the most important supporters of the Bashar Assad regime since the onset of the Syrian crisis in 2011, with their veto power in the UN Security Council (UNSC) proving particularly useful.
Among the most recent examples of this policy was when Moscow and Beijing last year vetoed the extension of an operation to deliver humanitarian aid across two border crossings, Bab Al-Salam and Al-Yarubiyah, into Syria from Turkey and Iraq, respectively. While these two Syrian allies argued that one border crossing — Bab Al-Hawa — is adequate, the other council members disagree. The mandate for this last crossing point's operation is set to expire on Saturday, when the UNSC will decide whether to extend its authorization for aid crossing from Turkey.
Ankara has also fixed its eyes on this vote, as shutting down the aid corridor into northwest Syria would serve the interests of the Assad regime, while causing suffering for millions of civilians.
Syria remains the apple of discord between Turkey and Syria's allies, namely Russia and China. Since the beginning of the crisis, Turkey's position on Syria has not entirely overlapped with those of the Russians and Chinese, as the ouster of the regime was an essential condition for Ankara. Although both Moscow and Beijing are supporting Assad, who will complete 21 years in power on July 17, they do not have similar policies, methods and visions for Syria. The divergence in Russia and China's policies in Syria are also clear in the way they react to Turkish actions in the war-torn country.
In October 2019, when Turkey launched Operation Peace Spring, a military incursion into northern Syria, Beijing called on Ankara to halt the offensive on the grounds that "Syria's sovereignty, independence and territorial integrity must be respected and upheld." However, Russia reiterated its recognition of "Turkey's right to ensure its security." This was a clear clue that Ankara had received a green light from Moscow to carry out this operation. This also convinced Turkey that Russia better understands the Turkish sensitivities concerning the issue of the Kurdish militias than China or the US.
This divergence in Russian and Chinese policies in Syria was very much related to what they prioritize in the region and how they aim to shape their relations with Turkey. Although China and Russia are rising powers in the Middle East, capitalizing on America's regional blunders, the positions and roles played by these two actors are far from identical.
Since the beginning of the crisis, Turkey's position on Syria has not entirely overlapped with those of the Russians and Chinese.

Sinem Cengiz
China has kept a relatively low-profile role in the Syria crisis and chosen a middle path, limiting itself to political engagement. Based on a cautious, pragmatic and economy-oriented policy, China does not share Russia's visions or methods in the Syrian crisis. Russia's use of military force challenges China's economic and political interests in the country and, most importantly, contradicts its "peaceful rise." Also, in contrast to Moscow, which initiated the Astana process with Turkey and Iran, Beijing has remained distant from any engagement with these two regional actors, limiting its role to the UNSC.The future of Syria matters for China, as it also does for both Russia and Turkey, for a host of reasons, mainly related to the economy. While staying on the margins of the disastrous Syrian conflict, Beijing has broadened its economic presence in the region, considering Turkey and Syria to be crucial points in its ambitious Belt and Road Initiative (BRI).
Three main objectives have driven China's policies toward Syria and Turkey. While the first is economic concerns related to the BRI, the second is security, as Beijing wants to build strong cooperation with both Ankara and Damascus on counterterrorism issues. China's third objective is to benefit from the opportunities that the postwar era will bring. Beijing wants to have a say on the reconstruction and redevelopment phases in Syria, and the Turkish-Chinese relationship will be of greater relevance when this era begins.
However, having embarked on a military intervention in favor of the regime in 2015, Russia has quite different aims and, of course, follows a different path in its relations with Turkey. Syria has been the top political issue for Ankara and Moscow for a decade. Thanks to ambivalences in Turkish-American relations, Russia found the chance to overcome its differences with Ankara over Syria. The most important evidence of this is the Astana process. Cooperation with Moscow was a necessity for Ankara, rather than an option, as Russia was determined to maintain its military presence in the war-torn country.
For Russia, retaining its key naval base of Tartus and its air base in Latakia is of great importance. The Syrian regime has also been the main client for Russian arms since the 1960s and Moscow has continued to ship arms and ammunition to the regime's military forces throughout the war. The competition in terms of arms sales and nuclear technology exports is likely to become another potential divergence between Russia and China.
The presence of both Russia and China in the region is clearly multidimensional, including military, economic and political facets, and contradictory to a certain level. For Turkey, potential competition between these two powers presents an opportunity. Ankara has economic and political interests in maintaining close ties with both Moscow and Beijing, despite their differences in the Syrian imbroglio.
• Sinem Cengiz