Russia announces expulsion of 40 German diplomats
Russia's foreign ministry says it has made 40 German diplomatic staff "persona non grata." US Secretary of State Antony Blinken and Defense Secretary Lloyd Austin made a visit to Kyiv.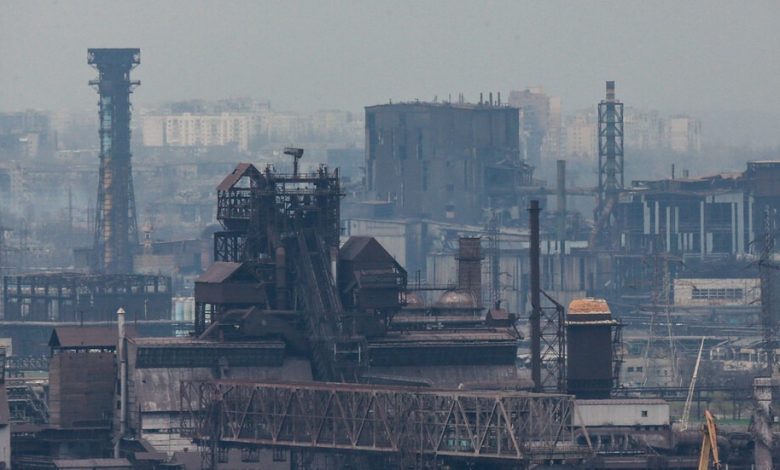 UK Defense Minister Ben Wallace said the British government believes Russia has lost approximately 15,000 soldiers since Russian forces invaded Ukraine February 24. By contrast, Ukraine has claimed 22,000 Russian troops were killed since the invasion.
Russia has acknowledged only 1,351 military deaths.
Additionally, Wallace said the UK believes Russia lost 60 jets and helicopters, 2,000 armored vehicles and 530 tanks, saying they were either destroyed or captured, some by Ukrainian tractors. 
Ukraine has stated Russian losses of materiel at 181 fighter jets and 154 helicopters, 2,258 military vehicles and 884 tanks.
Wallace added Russia deployed 120 tactical battalion groups during the invasion of Ukraine, amounting to 65% of Russia's total infantry units. Wallace said at least 25% of Russia's ground forces are no longer combat ready.
The UK defense secretary said his country would soon send "a small number" of Stormer armored vehicles equipped with missile launchers.
European Commission President addresses Russia on India visit
European Commission President Ursula von der Leyen said in New Delhi that Russian aggression in Ukraine is a direct threat to European security.
Speaking at a geopolitical conference, von der Leyen said that Russia was: "Targeting and killing innocent civilians. Redrawing borders by force. Subjugating the will of a free people. This goes against core principles enshrined in the U.N. Charter."
She added that Russia's "unprovoked and unjustified aggression against Ukraine" would be a "strategic failure." She said the EU was "doing all we can to help Ukraine fight for its freedom."
Germany wants to secure the grain supply from Ukraine by rail
The German government wants to use rail transport to arrange alternative means of exporting grain from Ukraine.
"I am committed to ensuring that the 20 million tons of grain can be transported to avert a global food catastrophe," Michael Theurer, a Bundestag member with a role at the Transport Ministry, told the German business daily Handelsblatt.
According to Theurer, talks were being held with the Ukrainian railways and other European railways — with Deutsche Bahn also set to play a role. Owing to the blockade of Ukrainian ports, it is not currently possible to export Ukrainian grain by sea.
Both Russia and Ukraine are among the most prolific exporters of wheat on the planet.
On April 23, Ukraine and Poland announced that they would create a joint logistics company to increase the volume of rail transportation of Ukrainian goods to the EU and world markets via Europe.
Russia says Trans-Dniester hit with explosions
Russian state-run media outlets are reporting explosions near a government building in the Trans-Dniester region of Moldova, where Russia backs its proxy forces who call themselves separatists.
Trans-Dniester, also referred to as Transnistria in English, is a narrow strip of land on the east bank of the Dniester River, sandwiched between Ukraine and Moldova. The breakaway region seceded from Moldova after a brief military conflict in 1992 following the break up of the former Soviet Union.
Earlier, Putin accused the West of "terror" while urging prosecutors to be tough after Russia accused "neo-Nazis" from Ukraine of attempting to assassinate numerous Russian state media personalities and bosses including presenter Vladimir Solovyev and state media head Margarita Simonyan.
Sweden and Finland agree to submit NATO applications
Finnish newspaper Italehti reports Finland and Sweden have agreed to submit NATO applications at the same time during the week of May 16..
Swedish paper Expressen writes that its sources confirm there is an agreement between the two countries. 
Finnish President Sauli Niinisto is scheduled to arrive in Stockholm in the middle of that week.
Berlin says Russia's expulsion of diplomats 'not justified'
Germany Foreign Minister Annalena Baerbock has condemned Russia's announcement that it will expel 40 German diplomatic staff.
The move by Moscow was said to by a symmetrical response to Germany's expulsion of the same number of staff from Russian diplomatic missions earlier this month.
However, Baerbock said the Russian staff expelled from Germany had been spies, rather than diplomats.
"We expected today's step, but it is in no way justified," Foreign Minister Annalena Baerbock said in a statement.
Baerbock said that the 40 Russian diplomats expelled by Berlin "did not serve diplomacy for a single day" while those who were expelled by Russia had "not done anything wrong."
Russia declares 40 German diplomats 'persona non grata'
Russia's Foreign Ministry says it has declared 40 employees of German diplomatic institutions in Russia "persona non grata."
In a statement, the ministry said it had summoned Germany's ambassador in Moscow and handed him a note
The ministry said it was "a symmetrical response" to the German government's decision to expel 40 Russian diplomats from Germany on April 4.
Moscow's letter of protest said statements made at the time by Foreign Minister Annalena Baerbock had been unacceptable.
Baerbock had spoken of "a significant number of members of the Russian embassy, undesirables who have worked every day here in Germany against our freedom, against the cohesion of our society."
The Russian Foreign Ministry said it also objected to "insinuations" Baerbock had made about events unfolding in Ukraine.
An assessment by the German news agency DPA said the number corresponded to about one-third of the German diplomatic corps in Russia.
The RIA news agency also reported that Russia's foreign ministry has said that unfriendly actions against Russians will not go unanswered. It cited the ministry as saying Moscow could seize assets held in Russia as a response.
Greenpeace activists chained their boat to Russian tanker in Norway
Greenpeace activists in Norway have chained their boat to a Russian oil tanker in protest oil imports from Russia.
The aim was to prevent the shipping of thousands of tons of oil to Norwegian ports, Greenpeace Norway said on its website.
The four activists, who held up banners with "Stop fuelling the war" and "Oil fuels war" from three small boats and kayaks, called on the Norwegian government to halt the import of Russian fossil fuels.
"I'm shocked that Norway is operating as a free port for Russian oil, when we know it is financing Russian President Vladimir Putin's war," Frode Pleym, Greenpeace's head in Norway, said.
Pleym is among the activists who chained their boat to the Russian tanker's anchor chain off the Oslofjord terminal.
Norwegian police later said they had arrested 20 Greenpeace and Extinction Rebellion activists who blocked the Russian tanker.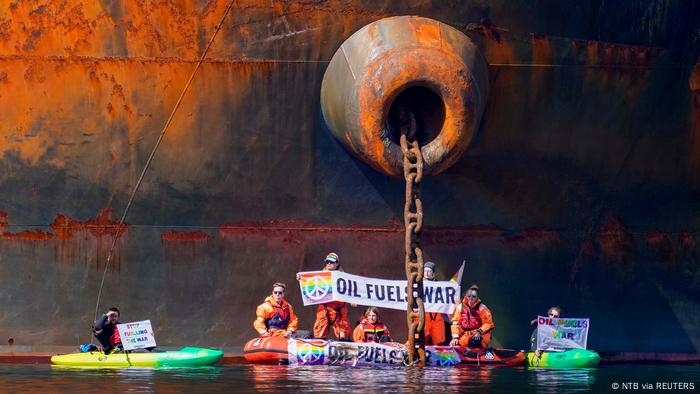 Greenpeace members, who had their boat chained to a Russian tanker, held the banners "Stop fuelling the war" and "Oil fuels war"
Estonian PM urges Germany to act now, not later
Estonian Prime Minister Kaja Kallas has told DW that her country expects Germany to show strong leadership and deter Russian aggression.
The comments come with the German government facing criticism over its reluctance to ban Russian oil and send heavy weapons such as tanks to Ukraine.