Russia claims Washington is behind the Ukrainian attack on the Kremlin
Both Kyiv and Washington strongly denied involvement in what Moscow said, without citing evidence, was an attempt to assassinate President Vladimir Putin.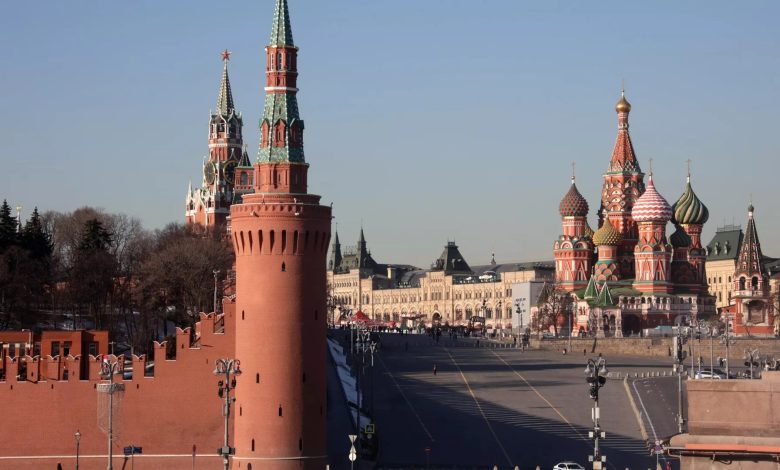 Russia claimed Thursday that Washington was behind an alleged drone attack on the Kremlin that it said was a Ukrainian attempt to assassinate President Vladimir Putin.
Kremlin spokesman Dmitry Peskov claimed Thursday that Washington had masterminded the incident. The U.S. swiftly rejected the accusation, saying it had nothing to do with it, as did Ukraine.
The accusation, made without citing any evidence, comes less than 24 hours after Moscow said that it had foiled an overnight drone strike on a building that is the heart of the country's government and Putin's residence.
"We are well aware that decisions on such a level of terrorist attacks are made not in Kyiv, but in Washington," Peskov said in his daily briefing with reporters. "Kyiv only does what it is told to do."
Peskov dismissed American and Ukrainian attempts to "disown" the drone incident as "absolutely ridiculous."
A Russian investigation into the incident is ongoing, he said, adding that Moscow's response would involve "thoughtful, balanced and appropriate steps in the interests of our country," without specifying what they might be. Russia's security council, chaired by Putin, is due to meet Friday.
White House National Security Council spokesman John Kirby dismissed Peskov's claim.
"I can assure you there was no involvement by the United States. Whatever it was didn't involve us," he said in an interview with MSNBC's "Morning Joe" early Thursday. "We had nothing to do with this, so Peskov is just lying there, pure and simple."
He added that the U.S. did not "encourage or enable" Ukraine to strike Russia.
NBC News has viewed two videos filmed from the same perspective, which appear to show that two objects flew over the Kremlin approximately 15 minutes apart. The second object seems to strike the building causing a small fire. It was unclear where the objects were launched from and whether they exploded or were shot down.
Three American officials, speaking to NBC News on Wednesday, said the U.S. had no prior knowledge of any attack.
Ukrainian President Volodymyr Zelenskyy also denied that his country was behind the attack. "We are not attacking Putin or Moscow," he said at a news conference in Finland on Wednesday.
"We are fighting on our own territory, defending our villages and cities," he added. "We do not have enough weapons even for this. That is why we do not use them elsewhere. We have a deficit. We cannot use everything and everywhere."
Asked how Putin reacted when told of the alleged attack, Peskov said that the Russian leader "always remains calm, collected, clear in the assessments and commands that he gives out in extreme situations."
Putin was in the Kremlin on Thursday and the staff were working normally, he said.
Peskov said earlier that Putin was not in the building at the time of the alleged attack, and analysts have dismissed suggestions that this was a serious assassination attempt.
But hard-liners have demanded a reaction, with some calling for a retaliatory strike against Zelenskyy.
The incident took place ahead of Russia's celebration Tuesday of the then-Soviet Union's victory over Nazi Germany in World War II — an important public holiday that will present a high-profile opportunity for Putin to rally Russians behind the war.
Russia has frequently accused the U.S. of making key decisions for Ukraine during the war. Putin, his officials and state media have repeatedly said that Russia is at war with NATO. The military alliance's expansion into central and Eastern Europe was one of the pretexts for Russia's invasion.
Peskov said air defenses would be tightened, and that this was happening anyway for the military parade in the Red Square. He said the parade would go ahead as normal and include a speech from Putin.
The U.S. has given Ukraine more than $77 billion in military and humanitarian aid, but has sought to ensure its weapons were not used in attacks on Russian soil.
Washington announced a further $2.6 billion in funding Wednesday, including $500 million in battlefield weaponry such as artillery, tank ammunition, mortars, rockets and fuel tankers.
The news comes ahead of an expected Ukrainian counteroffensive that will see Kyiv's military try to seize back land captured by Russian forces.
A wave of recent incidents has seen blasts hit sites inside both countries as the two sides seemingly lay the ground for the fight to come.