Russia Offers Arab League to Collaborate in Ending Bloodshed in Palestinian-Israeli Conflict
Russian foreign minister discusses escalation of Palestinian-Israeli conflict with Arab League Secretary-General Ahmed Aboul Gheit at meeting in Moscow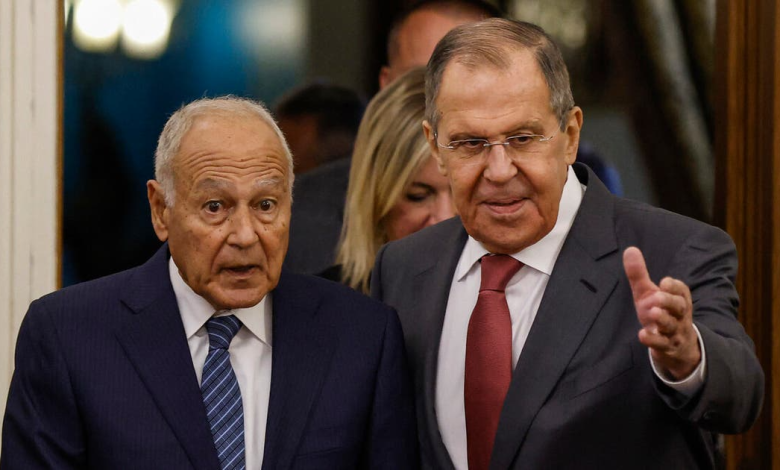 Russian Foreign Minister Sergey Lavrov has called for Russia and the Arab League to play a role in ending the violence in the Palestinian-Israeli conflict. During a meeting with Arab League Secretary-General Ahmed Aboul Gheit in Moscow, Lavrov emphasized the need to address the ongoing bloodshed and suffering of civilians in the region. He also stressed the importance of analyzing the factors that have prevented a lasting resolution to the Palestinian issue over decades.
The recent escalation in the conflict, triggered by Hamas launching rockets against Israel and Israel's military response, has resulted in significant casualties on both sides. Lavrov expressed concern about the situation in Gaza and tensions on the Israeli-Lebanese border.
Lavrov criticized the West for its imbalanced position in the conflict and called for a two-state solution based on UN decisions as the key to peace in the region. He also noted Russia's interest in the security of both Palestine and Israel and criticized the US for attempting to monopolize mediation efforts.
Ahmed Aboul Gheit thanked Russia for its position in the UN Security Council and highlighted the Arab League's logical and balanced stance on the conflict. He expressed readiness to assist in mediation efforts to resolve the conflict in Ukraine, which has had a negative impact on the economies of several Arab countries.
Lavrov mentioned the upcoming Russian-Arab Cooperation Forum meeting in Marrakesh in December, emphasizing the importance of coordination between Russia and the Arab League, particularly in light of recent developments in the Middle East and the world.