Russian Defense Reveals the Results of the Missile Strike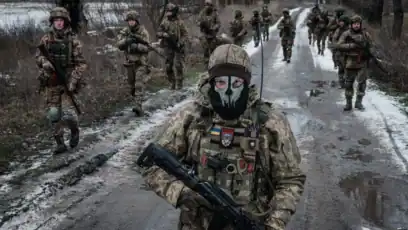 A Russian drone boat packed with explosives rammed a bridge near Odesa, Ukraine, on Friday evening.
The grainy video showed a fast-moving object approaching the bridge in Zatoka, about 30 miles south-west of Odesa, and exploding in a powerful blast.
The Ukrainian military has not commented on the attack, and Serhii Bratchuk, a spokesman for the regional administration, would not confirm the drone attack when he spoke on Saturday.
It comes as Vladimir Putin unleashed a new wave of missile strikes on critical infrastructure in Ukraine on Friday, causing explosions in Kyiv and Kharviv, as well as several cities across the country.
At least 17 missiles hit Zaporizhzhia in an hour in the heaviest attack on the southeastern city since Russia invaded Ukraine in February last year, local officials said.
Ukrainian president Volodymyr Zelensky, who this week pleaded with European Union leaders for more weapons, including fighter jets, said: "This is terror that can and must be stopped."
Power supplies were disrupted by overnight drone and missile strikes on power stations and transmission facilities in eastern, southern and western Ukraine.