Russia's Admiral Gorshkov Frigate Begins Trip Across Atlantic, Indian Oceans
Russian Defense Minister Sergey Shoigu noted that the frigate is armed with guided missiles and is designed to solve problems in the far sea and ocean zones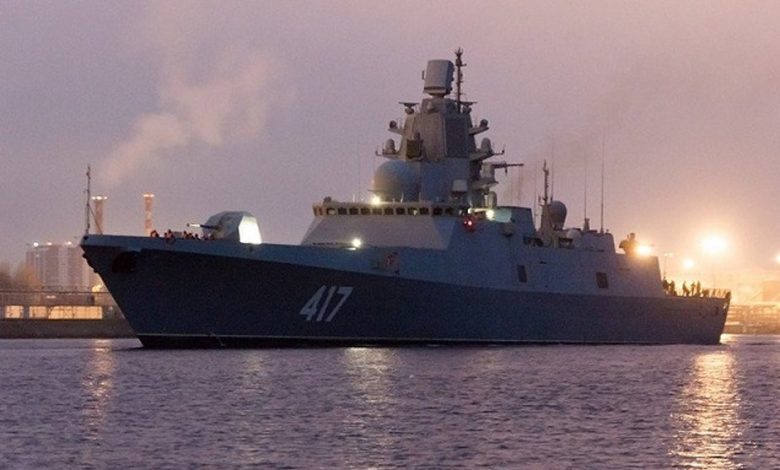 Russian frigate Admiral Gorshkov armed with Tsirkon hypersonic missiles will go on a trip across the Atlantic and Indian oceans, as well as the Mediterranean Sea, Russian Defense Minister Sergey Shoigu announced on Wednesday during the ceremony of the frigate entering combat service, which was held via video conference. The event was attended by Russian President Vladimir Putin.
"Today, frigate Admiral of the Fleet of the Soviet Union Gorshkov with Tsirkon hypersonic missiles on board is embarking on a long-range sea voyage across the Atlantic and Indian Oceans, as well as the Mediterranean Sea," the minister said.
The minister noted that the frigate is armed with guided missiles and is designed to solve problems in the far sea and ocean zones. "The main efforts during the campaign will be focused on countering Russia's threats, maintaining regional peace, and stability together with friendly countries," he stressed.
In turn, the Russian president stressed that the frigate is an example of "a great joint work, which brought good, expected results." He noted that the frigate will protect the country from potential external threats. "It has no analogues in any country in the world," Putin said, adding, "I am sure that such powerful weapons will reliably protect Russia from potential external threats and will help ensure the national interests of our country."
"We will continue to develop the combat potential of the Armed Forces, make advanced models of weapons and equipment that will guard Russia's security in the coming decades. This is a promising weapon," Putin said.
On December 21, Putin said that the frigate armed with Tsirkon hypersonic missiles would enter service in January 2023. On December 28, the Northern Fleet's press service said frigate Admiral of the Fleet of the Soviet Union Gorshkov, under the command of Captain 1st Rank Igor Krokhmal, had completed preparations for a long-distance voyage.
The crew of the multi-purpose frigate is ready to perform combat service tasks, Captain of the first rank Igor Krokhmal reported. "The ship has gone through a full cycle of preparations. The ship has been loaded with ammunition for missiles of the Zirkon, Caliber complexes, air defense systems, torpedo weapons and artillery. The ship's crew is ready to perform combat service tasks," Krokhmal said, according to Rossiya 24 TV channel.
The Russian Northern Fleet currently operates two warships of Project 22350: the Admiral Gorshkov and the Admiral Kasatonov. Frigates of this Project carry the Kalibr-NK cruise missile system as their basic strike weapon. These warships displace 4,500 tons and can accelerate to 29 knots. They are armed with Oniks and Kalibr missiles and Poliment-Redut air defense missile systems.
Project 22350 frigates are expected to become the Russian Navy's most advanced warships in their class. These frigates are multi-purpose combat ships capable of effectively fighting enemy surface ships, aircraft and submarines and delivering strikes against ground and coastal installations from a range of over 1,500 km.