Saif Al-Islam Gaddafi thanks Libya's Judges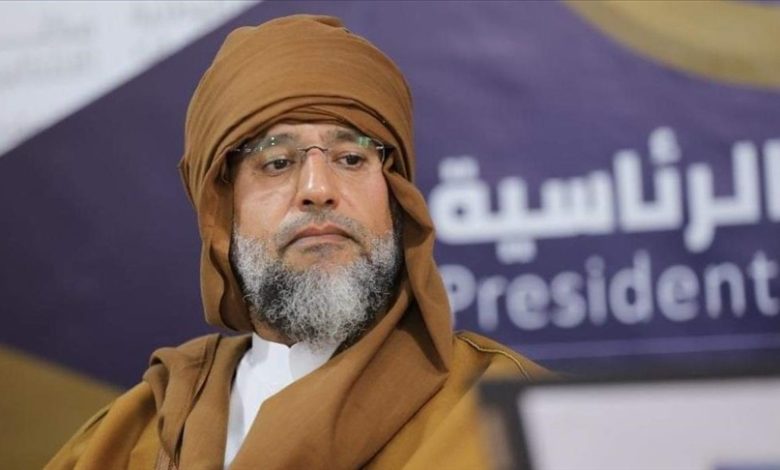 Saif al-Islam Gaddafi, on his Twitter account, directed a word of thanks and appreciation to the Libyan judges, who said that they risked themselves for the sake of the word of truth, after a court in Sabha ruled that he should return to the upcoming presidential elections.
Saif al-Islam Gaddafi added, through his tweet, that he dedicates this victory to all the Libyan people.
Gaddafi's son tweeted: "All thanks and appreciation to the judges of Libya who risked themselves for the word of truth, and we dedicate this victory to all the Libyan people… and a special dedication to my aunts, uncles, brothers and sisters who endured the cold nights and stayed up to protect the court."
Saif Al-Islam Gaddafi's lawyer considered the decision of the Sebha court to return his client to the electoral race as a victory for the will of the Libyan people, amid a festive atmosphere expressed by the supporters of Gaddafi's son in Sebha, after announcing the acceptance of the appeal submitted against Saif Al-Islam.
Saif al-Islam Gaddafi's lawyer had announced that the court had ruled for acceptance as a form in his client's appeal against the decision to exclude him from the elections, adding that it had obligated the High Electoral Commission to include his name in the final lists of candidates.
The exclusion of Saif al-Islam from running in the elections was based on the reality of his request to the International Criminal Court on charges of committing war crimes during his father's rule, with 25 other candidates who were excluded for various reasons.
Before the decision to return him to the competition, the exclusion of Saif al-Islam almost sparked a confrontation between his supporters and the Libyan army forces, which were accused of being behind the prevention of filing an appeal in the Sabha Court.
In addition, hundreds of Saif al-Islam's supporters demonstrated in front of the court building to stand against what was described as attempts to prevent a quorum of judges in an attempt to prevent Gaddafi's son from returning, accusations denied by the army altogether.
The exclusions blew up and continue to erupt, a battle of appeals, the parties of which are burning, and in various Libyan regions.
Before Seif al-Islam, the Prime Minister also returned to the race after two challenges to the nomination, to return also from the gate of the judiciary.
In an electoral atmosphere in Libya, some see it as a key to restoring stability, while others fear dangerous scenarios, in light of the sharp polarization between yesterday's comrades.
Appeals also appeared against other candidates, including army commander Khalifa Haftar, but the response to him was also rejected by the Benghazi Appeal Court.