Saudi Arabia, Iran to normalize diplomatic relations
The two nations agreed in March, with Chinese mediation, to normalise diplomatic relations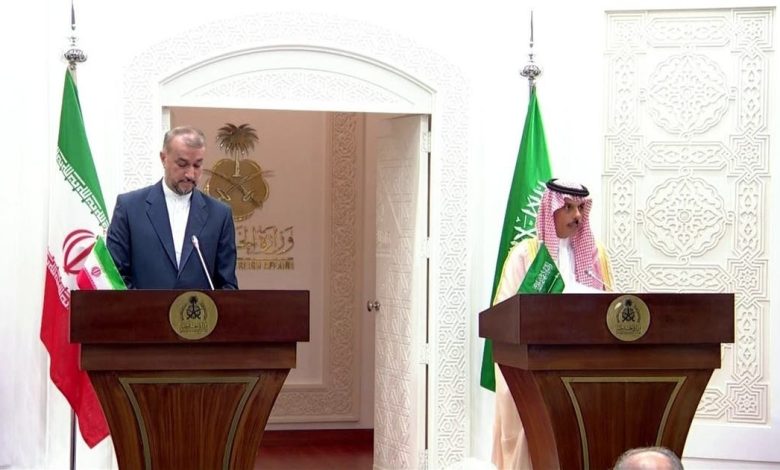 Saudi Arabia, Iran took a further step on Thursday in the resumption of relations between the two countries, historically rivals, with the first official visit to Riyadh by the Iranian Foreign Minister, Hosein Amir Abdolahian, which focused on strengthening economic cooperation and security in the Persian Gulf.
In this meeting, both Abdolahian and his Saudi counterpart, Faisal bin Farhan, stressed the importance of security cooperation, and the Iranian proposed a dialogue with his country's Arab neighbours for "stability" and "internal and regional security".
"We agreed on (the need to) work on the basis of agreements that pave the way for expanding and strengthening cooperation between the two countries in all fields," the Iranian diplomacy chief said at a press conference with Bin Farhan.
For his part, Bin Farhan stressed that Riyadh "considers it important to raise the level of bilateral cooperation and coordination", and aspires to "a new stage in relations" based "on common interests and mutual respect".
He also underlined Saudi Arabia's "interest in reviving previous agreements (with Iran), particularly in the economic and security fields", and noted that "there is a serious desire to implement the terms of the (March) agreement that benefit the kingdom and Iran by increasing trust and broadening the scope of cooperation".
Iran and Saudi Arabia, rival countries that lead Sunni and Shia Islam in the Middle East, agreed in March, under Chinese mediation, to normalise diplomatic relations, which Riyadh severed in 2016 amid tensions with Iran and after attacks on its diplomatic offices there following the Arab kingdom's execution of a senior Shia cleric. 
Saudi Arabia and its Arab partners neighbouring Iran, all US allies, have since the early 1980s accused Tehran of intervening in their internal affairs and threatening their security by supporting Shia militias such as Lebanon's Hezbollah and Yemen's Houthi rebels.
In this regard, the Iranian minister said that he broached the idea of establishing a dialogue with Arab "neighbours", after having done so with his counterpart Faisal bin Farhan to discuss "bilateral and multilateral cooperation" for regional "stability and security".
Iran's Arab neighbours have also repeatedly expressed their concern over Iran's nuclear and ballistic missile programmes, and make no secret of their concern over the movements of the Iranian navy in the waters of the Persian Gulf, which they see as a threat to navigation in this important shipping lane through which a large part of the world's energy is exported.
He added that his country "seeks to communicate and improve relations with neighbouring states, including Saudi Arabia".
We are following a correct path in this regard," he said, "and we have done so with Iraq, Kuwait, the United Arab Emirates and Qatar," insisting that "achieving security in the region is an indivisible idea".
As part of the March agreement, Iran opened its embassy in Riyadh and its consulate general in the Saudi city of Jeddah in early June, while Saudi Arabia did so in August and this week reopened its consulate in the holy city of Mashad.
The agreement to restore diplomatic relations between the two countries paved the way for Syria's readmission to the Arab League after 12 years of suspension, in addition to talks between Iran and Egypt to normalise relations and peace negotiations in Yemen.