Saudi Arabia: "We invited all Sudanese parties for talks in Jeddah"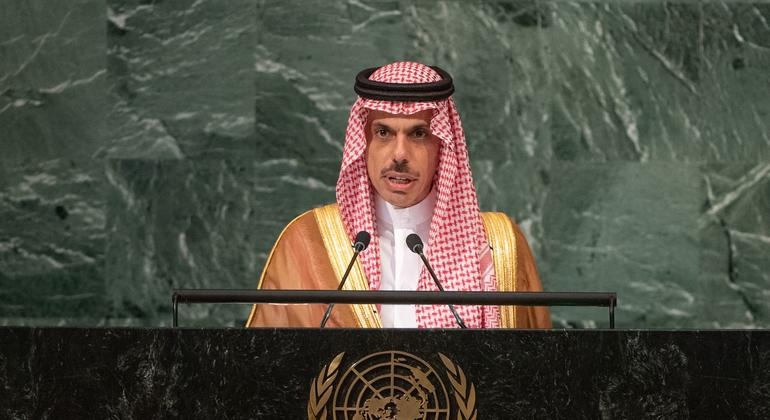 Foreign Minister Prince Faisal bin Farhan said that Saudi Arabia has invited all Sudanese parties to come to Jeddah for talks to resolve the crisis in their country.
Attending a ministerial meeting on Sudan on the sidelines of the 78th session of the United Nations General Assembly in New York, Prince Faisal reaffirmed in his speech on Wednesday the Kingdom's call to unify efforts to respond to the humanitarian situation in the war-torn African country.
Prince Faisal underlined the necessity to establish safe corridors to provide services to the Sudanese people. He called on international donors to participate in supporting Sudan and alleviate its suffering.
The Saudi minister's remarks came after the United Nations Humanitarian Coordinator Martin Griffiths confirmed that the conflict in Sudan is further worsening due to the influx of weapons from abroad. "The situation is deteriorating and threatens the stability of the entire region," he said while urging all parties in Sudan to return to the Jeddah talks," he added.
In his speech, Egyptian Foreign Minister Sameh Shoukry confirmed that Cairo has formulated an action plan to address the political and humanitarian aspects of the crisis in Sudan.
He revealed that Egypt has received more than 300,000 Sudanese people since the start of the war, while stressing that his country will continue its commitments to the Sudanese by supporting all efforts to end the tragedy. He noted that Sudan's neighboring countries should not bear alone the consequences of the crisis.
The conflict caused widespread clashes in addition to looting and robbery, causing food and medicine shortages in Khartoum and other cities, and pushing more than five million people to flee their homes. The conflict has so far claimed the lives of more than 4,000 people, according to figures released by the United Nations.
It is noteworthy that the war broke out between the Sudanese Armed Forces and the paramilitary Rapid Support Forces in mid-April, when tension related to an internationally supported plan for political transition turned into a direct clash, four years after the overthrow of President Omar al-Bashir in a popular uprising.