Sisi calls for a comprehensive political dialogue during the coming period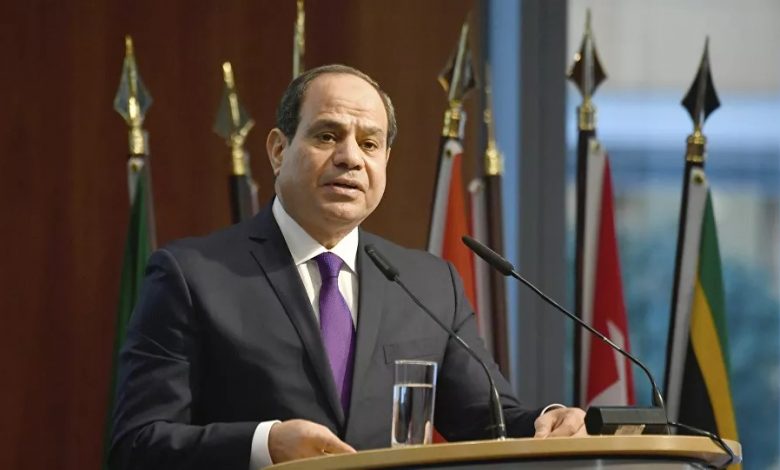 Egyptian President Abdel-Fattah El-Sisi called for a comprehensive political dialogue commensurate with the construction of the new republic in Egypt.
During his dialogue yesterday with a group of media professionals and journalists on the sidelines of inspecting the wheat harvest in the Toshka region, the Egyptian President stressed that the state established the principle of citizenship and non-discrimination among Egyptians on the basis of religion, noting that the state has gone beyond attempts to differentiate between Muslims and Christians, and its recent practices. It aimed at emphasizing that everyone is equal in rights and duties and that there is no discrimination between one person and another.
El-Sisi stressed that economic reform made the state more capable of facing economic crises, calling for the need to control population growth so that citizens feel an economic improvement, especially since the challenges in Egypt are greater than any government.
Al-Sisi said that terrorism managed to establish a structure in Sinai six years before 2011, calling to watch films that were shown about Sinai in 2010, which embodied a show of force by terrorist groups, and were revealing that Sinai is targeted in a large and planned way.
He pointed out that the economic crisis began in the aftermath of 2011, when Egypt lost a large part of its foreign reserves, while only the in-kind reserve remained. The presidential elections had to be held shortly after the events, but the matter extended for two years, noting that economic reform succeeded thanks to the efforts of the Egyptians. and their toughness.
Al-Sisi said that the population of Egypt during 2011 was 77 or 80 million citizens, and today it has become 104 million citizens, stressing that the economic burdens that the state undertakes in return for the additional 20 million are great.
He stressed that the state is proceeding with its plans and is racing against time to complete the reform quickly to reduce the gap between the state's economic growth and population growth, which necessitated a redoubled effort.
Al-Sisi asked, "Did the citizen in the sixties suffer like now?" He said: The capacity and resources of the Egyptian state at that era were relatively proportional to the size of the state, pointing out that population growth is now greater than the state's work capacity.
On the Ukrainian crisis, President Sisi said that the repercussions of the Ukrainian crisis have a very big impact on the economic situation in the whole world, including Egypt, noting that the severe effects of the Ukrainian crisis are not only economic, but security and political as well.