Somalia, Kenya, Ethiopia and Djibouti join forces for new offensive against Al-Shabaab terror group
At Mogadishu summit, leaders agree to start 'search and destroy' operations aimed at key al-Shabaab strongholds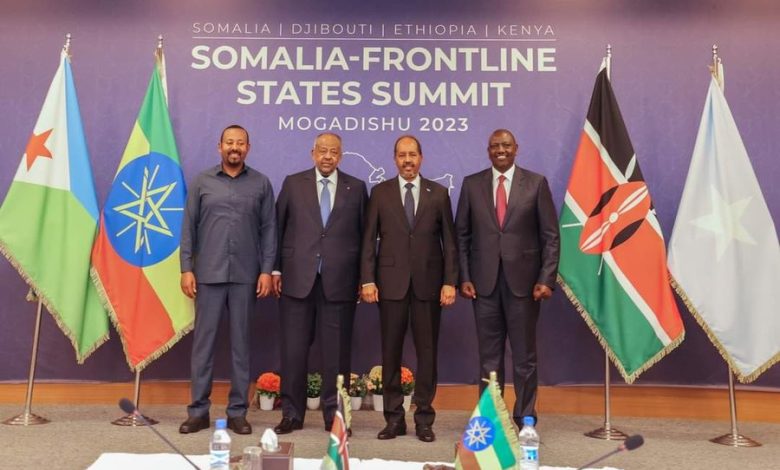 The leaders of Somalia, Kenya, Ethiopia, and Djibouti on agreed to put up a "united fight" against the al-Shabaab terror group.
Somali President Hassan Sheikh Mohamud hosted Kenya's President William Ruto, Ethiopia's Prime Minister Abiy Ahmed, and Djibouti's President Ismail Omar Guelleh for talks in the capital Mogadishu on Wednesday.
The leaders "agreed to jointly plan and organize a robust operational campaign at the frontline states level, of search and destroy on multiple frontlines aiming at key al-Shabaab strongholds across the south and central Somalia," they said in a joint statement.
"The time-sensitive campaign will prevent any future infiltrating elements in the region," the statement said.
The leaders hailed Somalia's ongoing offensive against al-Shabaab, which has seen its military reclaim several strategic areas and make significant gains in recent months.
They also stressed the "importance of establishing a joint border security mechanism that intends to eliminate cross-border terrorism activities and ensures legal passage of trade and movement," the statement added.
They agreed to make a joint push for areas that are still controlled by the terrorist group, the statement said.
Kenya, Ethiopia, and Djibouti, who also contribute troops to the African Transition Mission in Somalia (ATMIS), acknowledged the "need for new partnerships and enhancing solidarity among Somalia's neighboring states … in a united fight against a common terrorist threat to demonstrate a unified stance on confronting al-Shabaab," the communique added.
Al-Shabaab claimed responsibility for the attacks and said it also targeted the Halane compound, which houses diplomatic missions of several Western countries and institutions, including the US, UK, and EU.
Several mortars were fired at different areas of Mogadishu, including a district near the Somali president's office before the summit kicked off at the heavily fortified Decale Hotel located next to the Aden Adde International Airport.