Speaker of the Libyan Parliament Saleh: "We do not beg or receive orders from Turkey or others"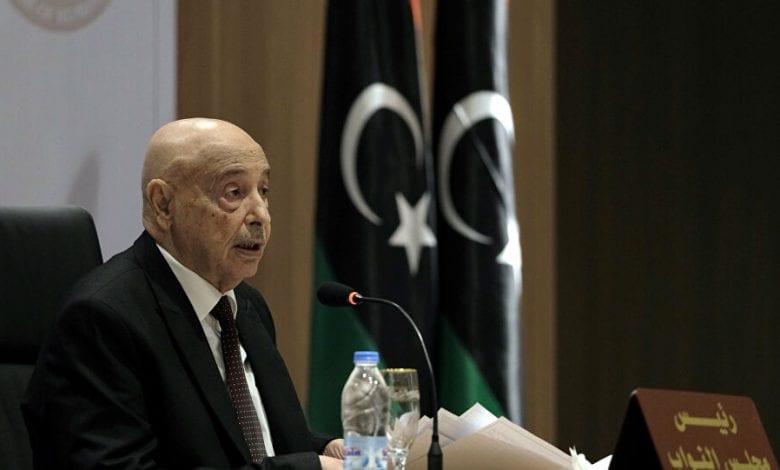 Aguila Saleh, The Speaker of the Libyan Eastern-based Parliament, denied sending a special envoy to the Turkish capital, Ankara to hold talks with Turkish officials.
Saleh also denied what Bakir Atagan, a member of the ruling party in Turkey said, that he had sent a personal envoy to Ankara to "beg and take orders."
In an interview with Al-Hadath satellite channel, Saleh said: "We do not beg or receive orders from Turkey or others. We are working for the security and stability of Libya and we have nothing to hide."
"The interest of the Libyan people is above all else, and the security and stability of Libya is our goal," he added.
Saleh concluded his statement by saying, "We will not hesitate to communicate with the countries active in the Libyan crisis file to achieve security and stability in Libya, but not at the expense of the interest of the Libyans."
Notably, Turkish Foreign Minister Mevlüt Çavuşoğlu, in his answer to press questions on Wednesday, made clear that communication with Egypt at the level of their intelligence ministries was continuing. He said this was to strengthen bilateral relations and dialogue was according to the principle of non-conflict in international forums.
The Turkish Foreign Minister also revealed that it was in touch with Aguila Saleh.
Çavuşoğlu did not disclose the name of the envoy who visited Turkey, but the Islamist February Channel, which is close to Turkish intelligence and broadcasts from Istanbul, said the special envoy was Abdel Basit al-Badri, the former ambassador to the Kingdom of Saudi Arabia.
He said, "Turkey is communicating with the eastern side in Libya. The Special Representative of the Speaker of Tobruk Parliament visited Turkey, and before that, the Speaker of Tobruk Parliament intended to send his deputy to Turkey, but this visit did not take place."
It also said that al-Badri offered to establish relations between Saleh and the Turks on condition that they support Saleh in his bid to lead the new Presidential Council.