Sudan crisis: Stalemate in Khartoum is bad news for Al-Burhan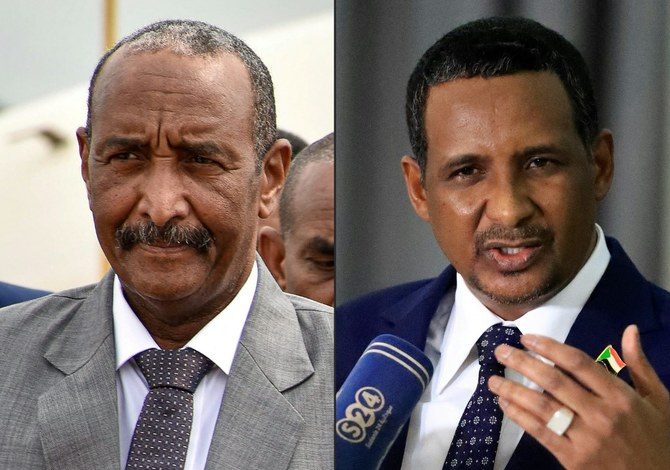 As the conflict in Sudan entered its second week, punctuated by short-lived truces, the battle for control of the capital Khartoum was inconclusive, with both sides in the internecine war claiming to have the upper hand. But as foreign missions are evacuated and doubts persist over diplomatic efforts to enforce a ceasefire, various possible outcomes are now unfolding and none are good for the future of the country.
As of Monday — before the latest attempt at a ceasefire came into effect overnight — battles between the Sudanese national army and the Rapid Support Forces were raging in and around key positions, including the military headquarters, the presidential palace and the international airport. The fact that fighting continued at these strategic locations indicated that neither side had been able to move beyond day one of the war. This is a worrying sign for the better-equipped and better-organized national army.
The RSF has been able to use its experience in urban warfare to entrench its fighters inside heavily populated neighborhoods of the capital and neighboring Omdurman, undermining the army's ability to use fighter jets and helicopters, as well as heavy armor. The most apt description of the situation in the capital — for now — is that there is a stalemate and, in strategic terms, this is better for the RSF.
The absence of a lasting truce has worsened an already catastrophic humanitarian situation. Most hospitals are out of service and those that are not have run out of vital medicines and lifesaving materials. Thousands of civilians are fleeing the city and many of those who are unable to leave have no access to water, electricity or food.
So far, armed forces and Sovereignty Council head Gen. Abdel Fattah Al-Burhan sees no benefit in accepting a permanent ceasefire to be followed by negotiations with his foe, Gen. Mohammed Hamdan Dagalo, also known as Hemedti. This would be an admittance of defeat and a boon for Dagalo's gambit.
With a weak central government and a distracted national army, the fear is that Sudan's territorial integrity will slowly unravel

Osama Al-Sharif
If anything, Al-Burhan is bent on chasing out the RSF from the capital before talk of peace is even contemplated. Without achieving this goal and soon, Al-Burhan will find himself in a weak position. For Dagalo, the fact that his fighters have been able to hold their positions in the capital has given him two things: The ability to air his message that he is fighting a corrupt junta that is associated with the toppled regime of Omar Bashir, and forcing the international community to treat him as an equal to Al-Burhan.
And here is the dilemma for Al-Burhan. Almost all countries that have commented on the crisis appealed to both sides to cease fighting. None, at least publicly, have taken his side. This works well for Dagalo and undermines Al-Burhan's claim that he represents legitimacy.
There are several scenarios that will likely unfold in the coming days and weeks if the current stalemate lingers. One scenario, which is the most optimistic, is that the army will eventually retake most of Khartoum, forcing the RSF to flee to the provinces, especially Darfur, which is Dagalo's tribal and military base. In the process, the army will extend its control over most of the country, engaging the RSF in other urban centers.
Only then might Al-Burhan yield to domestic and international pressure to accelerate a process of handing power to a civilian government, which in turn can negotiate with Dagalo about a peaceful settlement. It would be difficult for Dagalo to reject a civilian administration in Khartoum, since he supported the Framework Agreement and claimed that Al-Burhan was about to renege on his commitments.
Another scenario suggests that, as the fighting continues without a decisive conclusion, non-Sudanese players may step in to back either one or both parties, thus dragging the country into a never-ending proxy war. This is a dangerous possibility that could come true the longer the conflict continues.
And if the above scenario begins to take place, an even more sinister development could unfold. The Juba Agreement could fall apart and separatist groups could stir trouble in Darfur, the Blue Nile state, South Kordofan and the eastern provinces. With a weak central government and a distracted national army, the fear is that Sudan's territorial integrity will slowly unravel. The prospect of a civil war igniting as a result is distressing to say the least.
A weak and disintegrated Sudan is bad news for Egypt, but not so bad for other neighbors like Ethiopia, Eritrea and Chad. Certainly, the reverberations would be felt across Africa. And one should not forget about the dubious role that Israel might play in weakening Egypt's southern neighbor.
It is imperative that the battle for Khartoum is swiftly won by the national army, if the Framework Agreement has any chance of being implemented. The military stalemate is a bad omen for the country and its future.