Summit Hosts Egypt's Sisi, Jordan's King Abdullah, Iraqi PM in Baghdad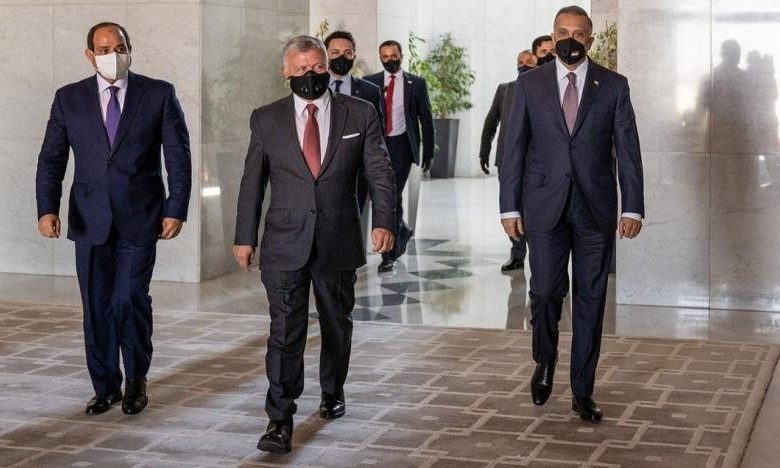 A tripartite summit will kick-off on Sunday in Baghdad, bringing together Iraqi Prime Minister Mustafa al-Kadhimi, Egyptian President Abdel Fattah al-Sisi and Jordan's King Abdullah II.
The summit, which was postponed more than once due to emergency circumstances in Cairo and Amman, comes as a continuation of the previous two summits held in Jordan and Egypt.
Government sources told our reporters that the summit would be held at the government palace in the Green Zone in Baghdad, noting that the three leaders would discuss working papers pertaining to political, economic and security affairs.
The sources added that the summit would also include a meeting with Iraqi President Barham Salih.
In a speech in March following the tripartite meeting in Amman, Kadhimi said: "Diplomacy and dialogue are the real force to protect people and stay away from wars."
"The Iraqi government succeeded in developing active diplomacy during the tenure of this government, as we activated the strategic dialogue with the United States, and moved towards focusing on economic, diplomatic and cultural cooperation. We have also succeeded in reducing the number of foreign forces by 60%," he added.
On whether this summit would represent the formation of a new axis, the government sources said: "Iraq does not believe in the policy of axes, but it proceeds in its Arab and regional relations from the principle of integration and common interests, as each of these countries needs the other."
"The government has put forward the idea of the New Orient, and we are working to implement it by finding broad common interests between Iraq, Jordan and Egypt, which would create a prosperous economic zone from which all powers in the region will benefit, and in which Iraq will play a major role," he stated.