Syria Demands Turkey's Withdrawal Before Restoring Ties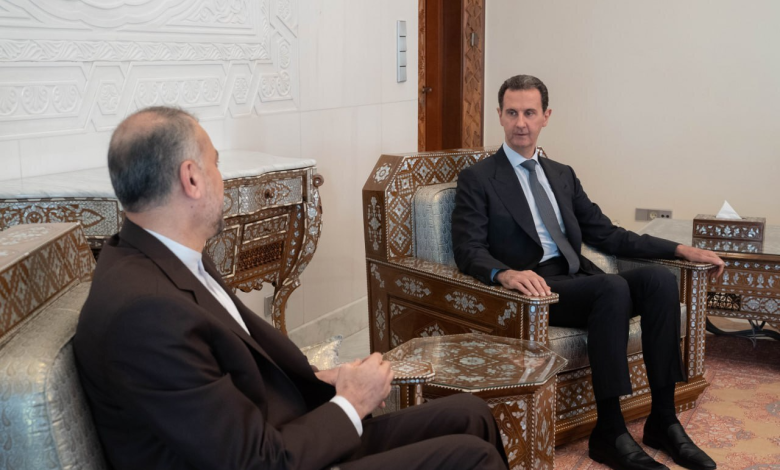 Syrian President Bashar al-Assad said on Thursday that the Turkish troops withdrawal from Syria is a "precondition" to restore Syrian-Turkish ties, according to the Syrian Presidency.
This came in a meeting with Iranian Minister of Foreign Affairs, Hossein Amirabdollahian, and an Iranian delegation that arrived at Damascus International Airport in an official visit on Wednesday.
Turkey launched three military operations against northern and northeastern areas in Syria. The first was "Euphrates Shield" operation in 2016 where it occupied Jarablus and al-Bab, the second was "Olive Branch" operation in 2018 where it occupied Afrin, and the third was "Peace Spring" in 2019 which resulted in the occupation of the two cities of Sere Kaniye (Ras al-Ain) and Tel Abyad with their countryside.
The two sides discussed the bilateral relations, conditions in the region, and the prospects of returning the Syrian refugees to Syria.
Al-Assad also hailed the Iranian and Arabian efforts in favor of the region's stability.
The Iranian minister emphasized strengthening the Syrian-Iranian ties, and the Iranian keenness to stick to the agreements signed during the visit of Iran's President Ebrahim Raisi to Syria.
Late in December 2022, a trilateral meeting took place between the defense ministers of Turkey, Syria and Russia in Moscow, marking the first high-level meeting between Syria and Turkey since the onset of the Syrian war.
Foreign ministers of Syria, Turkey, Russia, and Iran met on May 10 in Moscow over efforts to end decades of tension between Syria and Turkey; during the meeting Russia proposed a roadmap for restoring Syrian-Turkish relations to normal.